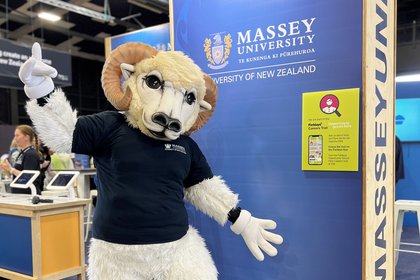 Last updated: Wednesday 30 August 2023
This year sees the 50th anniversary of Te Kunenga ki Pūrehuroa Massey University holding a site at the iconic event. In the last five decades, Massey has remained steadfast in its commitment to sharing leading research, innovation and teaching to support the advancement of Aotearoa New Zealand and educate the next generation of global leaders.
Visit us at the Mystery Creek Pavilion (site PD44, PD46, PC43, PC45) from 14-17 June to find out more about what we have to offer.
Improving environmental outcomes in Aotearoa New Zealand's agricultural landscapes
Collaborators from the School of Agriculture and Environment's Farmed Landscapes Research Centre will present a working farm model made up of two contrasting agricultural landscapes. The model will exemplify a series of Best Management Practices (BMPs) to help improve and manage water quality within agricultural systems.
A team of senior academic and teaching staff will walk attendees through the working model to showcase key findings from the School's research and how the adoption of BMPs can lead to improved environmental outcomes.
Head of School of Agriculture and Environment Professor Paul Kenyon is excited for the opportunity to share research that can significantly improve the impact of farming and help protect the surrounding environment for a more sustainable future in the agricultural sector.
"The model will showcase BMPs across a representation of the country's diverse farming environments to illustrate the right mitigation measures in the right place. Putting these practices into play can make a huge improvement to the water quality in our rivers and help alleviate the effect of farming on climate change."
One area of the model will represent intensive farms on flat, high-producing soils and showcase research into the benefits of plantain as well as variable rate irrigation. The other area will depict more extensive production systems on hill country, showing a buffer zone at the bottom of the slopes and a detainment bund to capture contaminants.
Where sustainability meets nourishment
Bachelor of Food Technology alumna Margie Hunt will be joining the stand to showcase her company Soochi, which merges the science of nature, taste and innovation to produce a range of wellness drinks and supplements.
Sustainability has been a driving force behind the brand's ethos, particularly when it comes to sourcing collagen which provides benefits for skin, hair and nails.
"Collagen can be a contentious topic and not all collagen is created equal, so we've put a lot of work into making sure we source ethically and for efficacy. The collagen peptides we use are a hydrolysed, easily absorbable form of collagen which is a by-product of meat production. As someone from a farming background, I'm a huge fan of zero waste when it comes to animals and believe that finding ways to use all of an animal is a way to respect the life that gave to us," Ms Hunt says.
Along with Chief Executive Tina Chou and Creative Director Naz Babapour, the all-female founding team have a shared mission to create innovative collagen and prebiotic sodas and supplements that are good for the skin, body and mind while also being kinder to the environment.
The initial concept and development of the collagen drink was born when Ms Hunt was a student at Massey. Initially part of a food design and development project, after graduating she revisited the idea and continued development with Ms Chou and Ms Babapour to produce an improved drink with a gut health element that doesn't compromise on taste.
Ms Hunt says her food technology degree provided a lot of practical knowledge and skills that have been foundational in her career.
"A lot of what I learned in my fourth year about product development has really helped me get here. The Massey degree not only gave me knowledge and skills to apply in my business, but offered networking opportunities and the chance to speak with experts in the industry."
The Soochi team will be offering tastings of their drink range at the Massey stand and the opportunity to chat about food technology and product development. Visitors will also have the chance to take home a canned drink with a flavour of their choosing.
Ms Hunt will also be joining the Wāhine toa o te Whenua: Future of Food and Food Tech panel discussion on Thursday 15 June at 11:30am.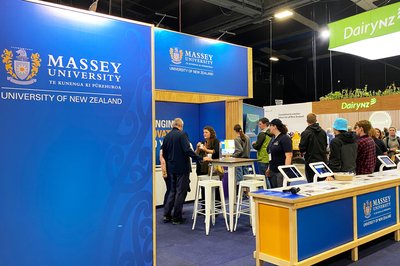 Supporting community resilience and wellbeing after disasters
Capability Development Manager Jon Mitchell from Massey's Joint Centre for Disaster Research (JCDR) will be on the stand to discuss current research, projects and collaborations which focus on developing community disaster resilience.
A key area Mr Mitchell will cover is the Aotearoa New Zealand Guide to Disaster Recovery Capitals, a project developed by JCDR to facilitate community resilience and wellbeing after disasters with evidence-based guidance.
The Recovery Capitals (ReCap) is a multidimensional framework intended to support strength-based, holistic and inclusive approaches which can be used post-disaster or in pre-event recovery planning. Designed for use in Aotearoa New Zealand, it embraces Te Tiriti o Waitangi and recognises the significant contribution of Māori scholars and practitioners to disaster risk reduction and recovery.
The Joint Centre for Disaster and Research is an international centre for research and teaching in disaster risk and emergency management. JCDR covers a broad range of research areas that tackle real-world situations to improve the way societies manage disaster reduction, readiness, response and recovery.
Opportunity Grows Here
Massey has partnered once more with the Ministry for Primary Industries' 'Opportunity Grows Here' initiative which aims to connect visitors with a diverse range of career opportunities.
The Academic and Future Students teams will be leading two engagement sessions at the Opportunity Grows Here Careers Hub to share potential pathways into a future career.
The first session on Thursday 15 June at 9:30am will explore sustainable career options in the 21st century, with the opportunity to ask questions on study available with the university. The session on Saturday 17 June at 9:30am will focus on redefining futures by exploring how to reimagine your career through study and achieve your professional goals.
Discover the past, present and your future
Find out more about the story of Massey through a timeline that explores key moments in the history of the university since it was established in 1927.
Academic and Future Student Advisors will be present across the four days to answer any course-related questions and connect with visitors on what opportunities are available in the career pathway of their choosing. With over 150 qualifications and degrees on offer across five colleges, our advisors can set you on the right course for your success.
Get your tickets for Fieldays® 2023 here.
Thursday 9 February 2023
Innovative research from the School of Agriculture and Environment has shown that feeding cows the leafy herb plantain can reduce nitrogen leaching from dairy farms by 20 to 60 per cent.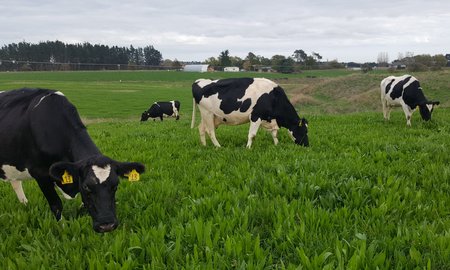 Friday 18 November 2022
We are once again partnering with Fieldays in 2022, showcasing our latest innovations in the food science, horticulture and agriculture spheres.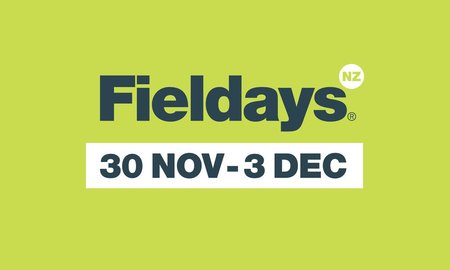 Saturday 19 June 2021
Massey scientists reveal at Fieldays two new ways to help farmers remove nitrates from drainage.