Our research development has been shaped by our long and proud history as a university, and our drive to contribute to Aotearoa New Zealand's future. That intent shapes our passage forward. Our Māori name, Te Kunenga ki Pūrehuroa, means from inception to infinity – emphasising that the pursuit of learning is an endless journey.
Starting out
Since our beginnings as a college in 1927, we have built an unrivalled record of research excellence in subject areas vital to Aotearoa New Zealand's society and economy reaching back more than 50 years as a university and more than 130 years in the creative arts.
The word research in te reo Māori – rangahau (to search, seek out, investigate) – speaks also to the notion of mātauranga (knowledge, wisdom, skill).
It's about the initiation point of the journey of discovery, and a journey of the acquisition of knowledge and also of new knowledge. It's also a term that refers to the bringing together of positive forces and energies to create within the researcher a particular strength to go about their research in ways that will lead to positive outcomes.
Read more about Massey's history in 'From Empire's Servant to Global Citizen – a History of Massey University' (Massey University Press)

Learn about the history of Massey University
Distinctly Massey
In the 21st century we aspire to serve, lead and educate a new generation of leaders by developing qualifications that feed into research degrees and are unique to Massey.
As a university, we have always sought new opportunities to foster, extend and capitalise on our existing research strengths.
Our world-leading reputation in research, teaching and learning increasingly extended across many diverse disciplines and partnerships.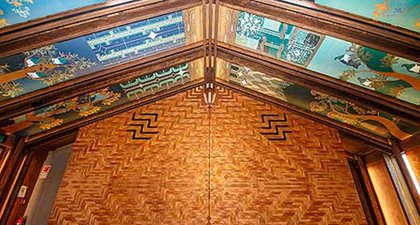 Partnership in action
An example of our partnership with iwi, excellence in design, construction and Māori visual arts is Te Rau Karamu Marae on Pukeahu Campus in Wellington.
Strategic ambition
In 2009 Massey developed an ambitious strategy to inspire change in New Zealand and take what is special about our country to the world through creativity, innovation and connectedness.

We set our aims towards informing our research focus to respond to global megatrends through practicality, pragmatism and pushing academic boundaries.
We have built on our ambition in subsequent strategies and our research portfolio has continued to expand, both here and internationally.
Explore some of our research stories
Addressing real-world issues
Since its beginnings, Massey has established a reputation for its outstanding teaching and research grounded in real-world issues, for New Zealand and around the world.
We are distinctive in our focus on solving contemporary societal challenges, while maintaining our commitment to fundamental knowledge discovery now and into the future.

Future focus
As our journey moves forward, we continue to actively respond to new messaging – from the government and internationally – around the exploration of how we view research expertise.
We will continue to evolve how we undertake Te Pou Rangahau – Research – one of three pou or pillars of our university. Along with Te Pou Tangata – People and Te Pou Ao – Teaching and Learning, we advance with a focus on sustainability and climate action, civic leadership, global engagement and entrepreneurship.
With our particular blend of attributes, expertise and characteristics (flexible lifelong learning and high-quality research intensive education) Massey has become the exemplar for the "new" New Zealand university – a university for the 21st century.