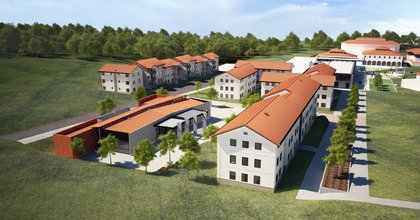 Massey's Auckland student accommodation options are in Te Ōhanga Village, in the East Precinct of the Auckland campus (previously known as Albany campus), on Auckland's North Shore. The accommodation is next to the university library and Student Central.
Across the road there is the Westfield Shopping Mall, cinema, libraries, and many cafes, restaurants and bars. Several swimming beaches are also close, and Auckland's central city is about a 20 minute drive away.
Te Ōhanga Village is the hub for student living. The accommodation is modern and comfortable.
Te Ōhanga Village consists of:
three catered halls of residence, with a total of 210 single bedrooms, ideal for first year students aged 17 to 25 (Room allocation on similar age group)
self-catered apartments, for 70 residents, ideal for first year students aged 20+ or returning residents aged 18+ (Room allocation on similar age group)
12 self-catered studio units, ideal for students aged 25 to 30.
Auckland accommodation options are fully furnished, and are all single occupancy. There is no accommodation available for couples or families.
When you apply, we place you in the accommodation that best suits you, based on the preferences you give us in your application.
Accommodation comparison 2023
The following table compares the prices and services of all the Auckland campus accommodation options.
Auckland campus accommodation comparison

| Accommodation option | Beds | Housing style | Room size | *Full Year Cost | Ideal for | Catering | Wheelchair access | Walking time to campus |
| --- | --- | --- | --- | --- | --- | --- | --- | --- |
| Pūkeko, Tui and Weka halls | 210 | Room in hall | Single | $16,568 | 17–25 year olds | Catered (2 meals per day) | No | 0 minutes |
| Matipo, Titoki and Tānekaha apartments | 70 | Room in 4 or 5 bedroom apartment | Single/Double (both single occupancy) | $12,317/$13,175 | 20+, or returning students aged 18+ | Self-catered | Yes | 0 minutes |
| Tānekaha studio units | 12 | Studio unit | Double (single occupancy) | $15,905 | 25–30 year olds | Self-catered | Yes | 0 minutes |
* cost includes deposit of $695
Services included
Internet, electricity and water
There is unlimited wifi internet throughout the village, in all the rooms and communal areas. Wifi, electricity and water usage are included in the room cost. Meals are included if you are in a catered hall.
Furniture
All of the accommodation is furnished, and in the apartments and studio units the kitchens are equipped with basic appliances and crockery.
All bedrooms have:
king single bed, mattress and mattress protector
desk, chair and desk lamp
shelf and pinboard
wardrobe with mirror
towel rail
curtains and carpet
heater
lockable doors
lighting and electrical outlets.
You need to bring personal items, an electric fan for cooling your room, bedding and towels (or you can purchase a bedding pack: King Single $155 or Queen $190).
Cleaning
In the catered halls, we clean the communal spaces. Residents are responsible for cleaning their own rooms, and also must tidy up after themselves after using communal spaces.
In the apartments and studio units, residents are responsible for all their own cleaning.
Payments
Payments for accommodation can be pre-paid by semester or for the full year. Domestic students are also able to pay on a weekly basis by direct debit.
2023 occupancy dates
Your accommodation contract term must reflect your study programme – if your programme of study is full year you must apply for full year accommodation.
The following table gives the contracted term dates when you will be living at Te Ōhanga Village.
2023 occupancy dates while living at Te Ōhanga Village.

| Term | Start date | End date | Duration |
| --- | --- | --- | --- |
| Full Year | Sunday 19 February 2023 | Sunday 19 November 2023 | 39 Weeks |
| Semester 1 Only | Sunday 19 February 2023 | Sunday 2 July 2023 | 19 Weeks |
| Semester 2 Only | Sunday 9 July 2023 | Sunday 19 November 2023 | 19 Weeks |
Living at Te Ōhanga Village
Te Rito
Te Rito is the social hub used by all the residents in Te Ōhanga Village. It includes reception, accommodation office, lounge with Smart TV, casual dining spaces, vending machines for snacks, music room, and games room with pool table, table tennis, foosball, dartboard, PlayStation 4 and Xbox One.
There is also an outdoor patio area with barbecues, seating, a basketball hoop and community garden.
Washing machines and dryers are located at the rear of Te Rito. They can be accessed 24/7 and cost $3 per load. You need to provide your own washing powder.
Activities and events
A vibrant social life is one of the top reasons for living at Te Ōhanga Village. A programme of activities and events is run throughout the year, including sports leagues, inter-hall competitions, themed nights, quiz, games, and movie nights.
Catering
If you are living in the catered halls, the meal plan offers you two meals daily – lunch and dinner Monday to Friday, and brunch and dinner on weekends.
The dining hall is at Student Central next to the accommodation. It offers a diverse range of food choices that change daily. You use your student ID card to receive meals.
Our Food4Me App allows you to view the menu, make orders and give feedback on meals.
Self-catering
The apartments and studio units are self-catered — they have kitchens for you to do your own cooking in and there are supermarkets nearby for food shopping.
Apartments have a cooktop, oven, combined fridge and freezer, microwave, toaster, jug, pots, pans and utensils. You can decide with the other residents living in the apartment if you'll eat separately, or share food and cooking responsibilities.
Studio units have kitchenettes with two hobs (no oven), microwave, fridge, jug, toaster, pots, pans and utensils.
Alcohol
Drinking in moderation is permitted between 7pm to 11pm, Wednesday, Friday and Saturday in the communal areas; Te Rito lounge, Hall social hubs, apartments and studio units. Drinking in bedrooms is not permitted.
Certain types of alcohol are not permitted, such as spirits and hard liquors, or alcohol in large quantities such as beer kegs.
Accessibility
Te Ōhanga Village offers accessibility options for residents who require it. Please outline any requirements you have in your accommodation application.
Support
Residential life team
Our accommodation team provides support all day, every day to all student residents. We pride ourselves on caring for our students and work closely alongside other Massey support services to make sure your needs are met.
Accommodation staff are made up of dedicated professionals with qualifications and experience in education, teaching, social work, and customer service, along with a team of Residential Assistants who are senior students. They offer a supportive community environment 24 hours a day, seven days a week. They help to create a positive culture and opportunities to have fun, while making sure our environment is safe for everyone.
Allocated staff members live on site.
Security
All Massey University accommodation facilities have swipe card or key access and rooms have a secure lock. Each campus is supported by a security service which assists the accommodation teams to ensure that the living environment is safe.
Campus security is also available 24 hours a day, seven days a week.
Parking and transport
Car parking
Car parking is available at Te Ōhanga Village for $120 per semester. There are limited parks available. You can request a car park when you are confirming your Offer of Place.
Bicycle storage
There is a bicycle rack at Te Ōhanga Village, as well as several racks around Auckland campus. Bicycles are not allowed inside the accommodation.
Public transport
There are buses to all over Auckland from outside the REC Centre on the East Precinct, near Te Ōhanga Village.
Buses can be paid for by using an AT HOP card. Full-time students can apply to Auckland Transport (AT) for a tertiary student concession sticker for their AT HOP card, and receive 20% off public transport in Auckland.
Apply for an AT tertiary student concession
International students
We provide a supportive, welcoming environment for international students. Each campus has an International Student Care (ISC) team to help and support you while you are studying with us.
Airport pick-up for international students
Pick-ups are available from Auckland airport when international students arrive, for NZ$95 (paid directly to the driver). You must submit your pick-up request form at least 72 hours before your arrival into Auckland airport.
Auckland airport pick-up request form
Accommodation handbook
There is more information on living at Te Ōhanga Village, what to expect and how to prepare, in our accommodation handbook.
Massey University East Precinct Albany Expressway, SH17, Albany, Auckland 0632, New Zealand
Auckland accommodation office
Hours

Monday to Friday, 8.30am to 5.00pm

Office phone

Location

Physical address
The Auckland accommodation office is located in the Te Rito Building, Te Ōhanga Village.


Massey Halls Auckland
Te Rito Building, Te Ōhanga Village
Massey University
Gate 1
Albany Expressway SH17
Albany
Auckland 0632


Postal address
Massey University
Student Accommodation Auckland
Private Bag 102904
North Shore
Auckland 0745
Self-catered, fully furnished apartments with single-occupancy bedrooms, ideal for students aged 21+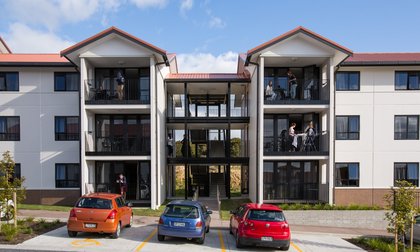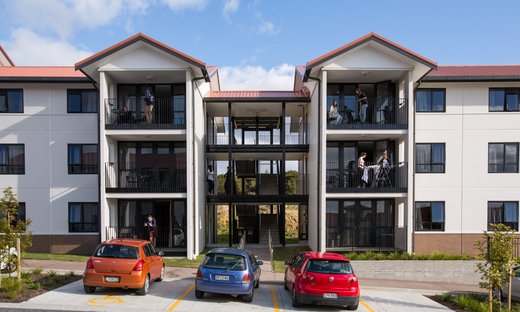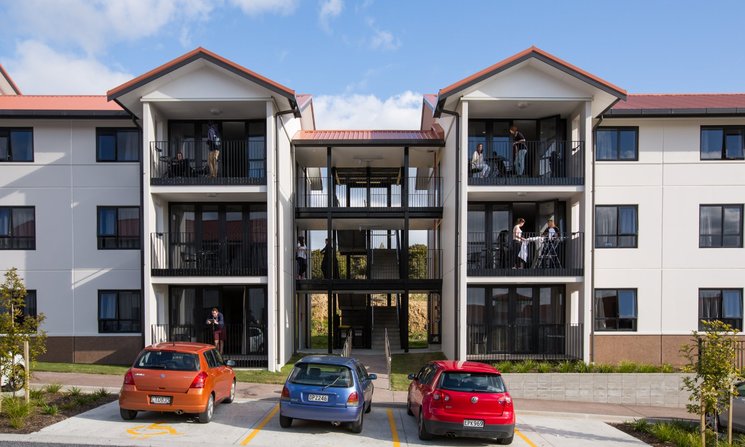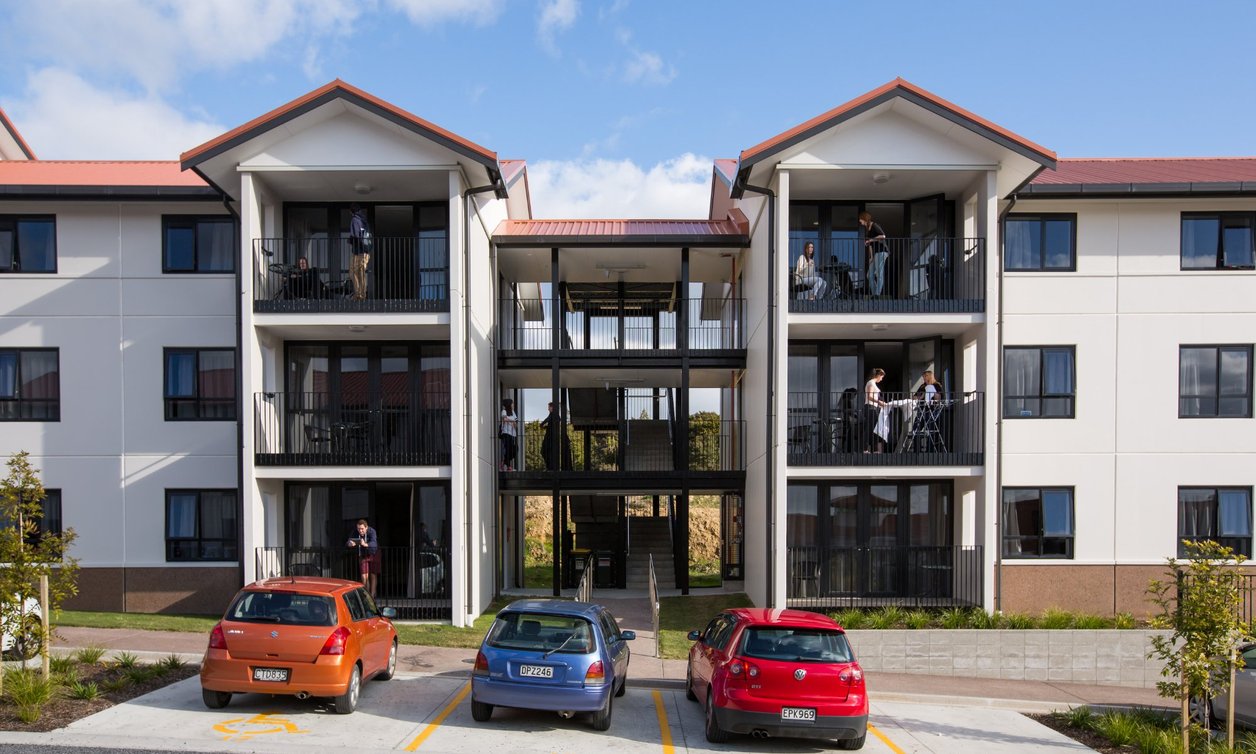 Enjoy student life on our spacious modern Albany campus in Auckland. See campus maps and details of student facilities to make the most of your time in New Zealand's biggest city.