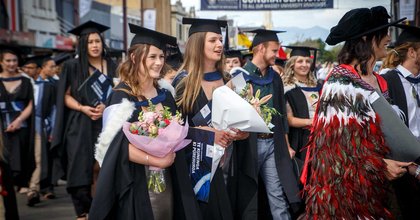 At Massey Career Centre, we can help you transition into, and thrive, in the workplace after you leave university.
You can continue to access our career services online by setting up a new graduate Massey Career Centre online account with us. This will let you view job vacancies on our NZUni Talent jobs board, and access all our online career resources.
What's available for graduates
We have a wide range of tools, resources and e-learning materials available through Massey Career Centre online. This includes articles, videos, webinar recordings and short courses on things like:
searching and applying for jobs
creating a CV and writing cover letters
preparing for job interviews
To set up a graduate Massey Career Centre account, please follow the instructions at Massey career centre.
Working with us
If you're interested in sharing your career journey with current Massey students, let us know. We'd love to work with you to mentor and support other students who are in the process of planning their career.
Learning how you went about getting work experience and finding a job can provide them with valuable insight. Contact us at careersupport@massey.ac.nz if you'd like to explore how we can work together.
We also work with employers who want to recruit Massey students and graduates for:
work experience
internships
volunteer work
graduate roles.
If your employer is interested in hiring Massey students or graduates, we have information for them too.
Employers' services from Massey Career Centre
Keep in touch
Massey Career Centre online isn't the only place to keep in touch with us online. You'll also find us on social media, where we share career ideas, tips and best practice advice, and post details of graduate employment opportunities.
We're also part of the Massey University alumni and friends community on LinkedIn.
Find Massey Career Centre on LinkedIn