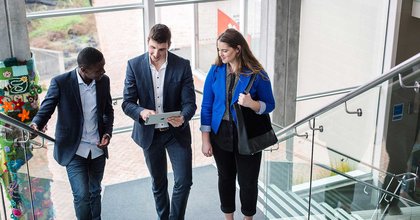 We know from our work with employers and organisations across New Zealand that Massey students are valued in the workplace. When you hire Massey students or graduates, you gain team members who:
are creative, innovative and enthusiastic
will bring fresh ideas and perspective to your team
have skills and ideas that can help your business grow.
We work with employers to help them raise their profile at Massey, and connect with the best of our student talent.
If you're keen to engage with Massey students, please contact us by emailing: careersupport@massey.ac.nz
Advertising jobs to Massey students and graduates
Employers interested in hiring Massey students can advertise jobs through our online vacancies board, NZUni Talent. Our listings include full-time and part-time roles, and include:
graduate programmes and one-off graduate roles
internships
holiday jobs
volunteer work.
All Massey students have access to NZUni Talent, and we offer the same access to our recent graduates.
NZUniTalent
We use the NZUniTalent portal to manage our job listings. It's a centralised system used by seven of the eight universities across New Zealand and offers you great service and unparalleled, direct access to NZ university students and recent graduates. Through the portal you can:
publish listings straight into the online vacancies board of any, or all, of the participating universities
target jobs to students studying particular subjects or disciplines
access an activity dashboard to help you better manage your vacancies, and a multiple job uploading function to help simplify the job listing process
use an employer profile building tool to ensure you get year round brand exposure.
We strongly encourage you to register with NZUniTalent to advertise jobs through Massey Career Centre.
Work-integrated learning (WIL) activities
Become a host organisation for Massey students seeking to undertake Work-integrated learning (WIL) activities.
Find out more at Work-integrated learning, Ako Tūhono.
Career events
We hold career-related events for our students throughout the year and help to promote other events being hosted by our Colleges, Schools, Institutes and Departments. We would welcome the chance to tell you more about these. Simply email us at careersupport@massey.ac.nz and we will contact you.
Our events include:
career talks
workshops
annual accountancy, business, and finance expo (on our Auckland campus)
drop-in sessions
online seminars
recruitment presentations.
Some events are tailored towards particular sectors – like our annual business and finance expo, for example. Others focus more on certain qualifications or roles, or on particular career skills.
We encourage employers to take part in these events. They're a great way to connect with our students and raise your organisation's profile on campus. Recruitment presentations in particular are useful for giving students an insight into:
the kind of work you have available
the recruitment process
how your selection process works
what it's like to work for your organisation.
We can host recruitment presentations on campus or online, depending on the students you want to engage with.
If an employer has Massey students or graduates working for them already, we recommend bringing them to events too. They can share their experience and help give students insight into the recruitment process.
To find out more about taking part in a careers event, or holding one yourself, contact us at careersupport@massey.ac.nz
Hiring international students
Massey has a large community of international students who are keen to gain work experience while studying. Some students will also want to work in New Zealand after graduation.
We've contributed to a resource that:
shows the value international students can bring to an organisation
gives examples of how other employers are supporting international students into work.
Working with international students and graduates (PDF, 407KB)
Universities Careers and Employability New Zealand (UCENZ)
Massey Career Centre is a member of UCENZ, a network of career services professionals from universities around NZ. UCENZ promotes and supports career development for university students. It aims to ensure third-party providers, like employers:
provide students with quality opportunities and services
build good relationships with the universities they work with.