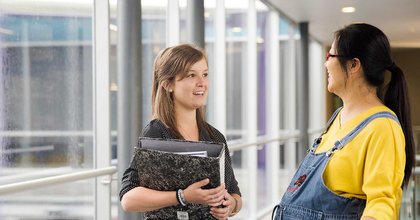 Ordering repeat prescriptions
If you're registered with your campus health centre, you can request a repeat of any medication your doctor has prescribed to you before.
Sometimes you may still need to see the doctor so they can review your progress before renewing a prescription. 
There are also some medications for which you must have consultation with the doctor each time you want a prescription, such as anti-depressants and anti-psychotics.
Auckland and Manawatū (Palmerston North) campuses
You can request to repeat your prescription by contacting your student health centre or by filling in the repeat prescription request form.
Repeat prescription request form

We can fax your prescription to any pharmacy in New Zealand.

Wellington campus
You can request your repeat prescriptions though the Manage my Health website. You can also request it via phone or email to Wellington student health centre. 
Your prescription can be faxed to any pharmacy. If you need it to be faxed, there may be an additional fee.
Online requests information
If you're making your prescription request online, here are some things you need to know.
Allow up to 48 hours for your request to be processed. Allow extra time for weekends, public holidays and outside of opening hours.
You must be a registered patient at the student health centre.
If you take medication regularly, make sure you send your request before you run out.
You can only request a repeat prescription for medications routinely prescribed to you. There are some medications that can't be prescribed online.
Make sure you list all the medications you need.
Make sure you list all of your allergies.
If you want your prescription sent to a pharmacy, please provide the pharmacy's details.

Medications you need to see a doctor for
You will need to see a doctor to get any of the following groups of medications, even if you've been prescribed them before. You can't order a repeat prescription for these medications online. You must also have your prescription for these medications reviewed every three months by a doctor.
The medications you must see a doctor for are:
anti-hypertensives/anti-arrhythmics
anti-depressants
anti-psychotics
diabetic insulin
diabetic tablets
hormone replacement therapy (HRT)
anti-epileptics.
We suggest you make an appointment at least two weeks before your medication is due to run out. This is especially important during our busy semester periods.
Medications not prescribed
At Massey student health centres, we have a policy not to prescribe some medications that have the potential for addiction. These are medications such as benzodiazepines, opiates, and certain sleep medications.
If you request such medications, we will review your case and do our best to offer safe alternatives to help you manage your conditions. The treating doctor will discuss the options with you. This might include referring you to a specialist. These suggestions will be at the discretion of the doctor.
Health and counselling centres
Manawatū campus Student Health and Counselling Centre (Palmerston North)
Phone

Location

The health and counselling centre is located on level one of the Registry Building, Tiritea Road, Palmerston North.
Auckland campus Student Health and Counselling Centre
Phone

Location

The health and counselling centre is located on level two of Student Central.
Wellington campus Student Health and Counselling Centre
Hours

8.30am to 4.30pm weekdays.

Phone

Location

The health and counselling centre is located on the third floor of the Student Services Building.
Healthcare for distance learners
Location

Contact the campus health and counselling centre nearest you.