Type of qualification
Bachelor's degree
Level of study
Undergraduate study
An undergraduate qualification is usually the first one you study.
NZQF level 7
Our courses follow the New Zealand Qualification Framework (NZQF) levels.
Time to complete
3 years full-time (360 credits)
Up to 8 years part-time
Part-time available
International students
International students are not New Zealand citizens or residents.
Open to international students on campus in New Zealand
Study a Bachelor of Commercial Music – BCommMus
In the Bachelor of Commercial Music, you will:
think critically about the music industry and where you want to position yourself
work collaboratively on a wide range of music events and experiences
become proficient with industry-standard production tools.
The degree has three majors: Music Practice, Music Technology, and Music Industry, so you can choose whether you want to make and perform new music, engineer live and studio sound as well as design new music technology, or immerse yourself in the business of the music industry.
Commercial Music has a strong emphasis on popular music genres and new technology and methods. You'll consider the role of streaming and digital media in the music industry and explore how to disrupt and operate outside of traditional business models.
Alongside the core courses in your major, you'll work with students from across the qualification to learn music content creation, online and media skills, organise and produce music events and experiences, and make and release recordings.
The critical content of the qualification spans new musicology, the political economy of music, and music philosophy. 
Learn from people who know the music industry
All our commercial music lecturers are active in the industry. They perform, record, tour, produce and manage successful music ventures in New Zealand and internationally.
Master your craft in world-class facilities
The purpose-built facilities at Toi Rauwhārangi College of Creative Arts are some of the best in the Southern Hemisphere. You'll master industry-standard software and hardware, including recording and production methods, in world-class recording studios and rehearsal spaces.
Further study
Extend your study with postgraduate research in the Bachelor of Commercial Music (Honours), or take a creative product or idea to market in the Master of Creative Enterprise. Or, develop your own creative practice in a Master of Fine Arts.
A BCommMus is a good fit if you:
love creating new music and music technologies
want hands-on experience in high-tech production facilities
want to graduate with a portfolio of projects including music recording, distribution, live events and music media.
Entry requirements
Admission to Massey
All students must meet university entrance requirements to be admitted to the University.
Specific requirements
There are no specific entry requirements for the Bachelor of Commercial Music, outside of university admission regulations.
However for the Bachelor of Commercial Music (Music Practice) you must register for an audition. You should apply for entry to this degree before registering for your audition and you will be assessed for selection into the qualification. 
We also recommend you join us for a consultation if you're applying for Music Technology or Music Industry, to make sure it's right for you.
Due dates
Note that application dates vary per major:
Music Practice
31 January 2023 for February 2023 (Semester 1) start.  Late applications may be accepted, subject to available spaces.
English language requirements
To study this qualification you must meet Massey University's English language standards.
Prior learning, credit and exemptions
For information on prior learning, exemptions and transfer of credit or other questions:
English language skills
If you need help with your English language skills before you start university, see our English for Academic Purposes (EAP) courses.
Official regulations
To understand what you need to study and must complete to graduate read the official rules and regulations for this qualification.
You should read these together with all other relevant Statutes and Regulations of the University including the General Regulations for Undergraduate Degrees, Undergraduate Diplomas, Undergraduate Certificates, Graduate Diplomas and Graduate Certificates.
Returning students
For returning students, there may be changes to the majors and minors available and the courses you need to take. Go to the section called 'Transitional Provisions' in the Regulations to find out more.
In some cases the qualification or specialisation you enrolled in may no longer be taking new enrolments, so may not appear on these web pages. To find information on the regulations for these qualifications go to the Massey University Calendar.
Please contact us through the Get advice button on this page if you have any questions.
Structure of the Bachelor of Commercial Music
If you study full-time, in your first year, you'll take eight 15-credit courses, making a total of 120 credits.
If you wish to study over two semesters, you should aim for 60 credits per semester. You may be able to take some courses at summer school. Make sure you include courses that are prerequisites for the next level of courses you wish to study.
More information: 'Yellow Book'. 
Courses and specialisations
Key terms
Courses

Each qualification has its own specific set of courses. Some universities call these papers. You enrol in courses after you get accepted into Massey.

Course code

Each course is numbered using 6 digits. The fourth number shows the level of the course. For example, in course 219206, the fourth number is a 2, so it is a 200-level course (usually studied in the second year of full-time study).

Credits

Each course is worth a number of credits. You combine courses (credits) to meet the total number of credits needed for your qualification.

Specialisations

Some qualifications let you choose what subject you'd like to specialise in. Your major or endorsement is what you will take the majority of your courses in.
Credit summary
360 credits
Compulsory courses

– 165 credits

Compulsory course selection

– 15 credits

Major courses

– 120 credits

Electives including at least 15 credits at 200 level or higher

– 60 credits
Ensure that overall, you have:
Not more than 150 credits at 100 level
At least 105 credits at 300 level
Course planning key
Prerequisites

Courses that need to be completed before moving onto a course at the next level. For example, a lot of 200-level courses have 100-level prerequisite courses.

Corequisites

Courses that must be completed at the same time as another course are known as corequisite courses.

Restrictions

Some courses are restricted against each other because their content is similar. This means you can only choose one of the offered courses to study and credit to your qualification.
Schedule A: Core courses
Compulsory courses (Choose 165 credits from)
Compulsory course selection (Choose 15 credits from)
Any 100-level Music (133 prefix) course
Schedule B: Specialisations
Majors
Some qualifications let you choose what subject you'd like to specialise in. Your major or endorsement is what you will take the majority of your courses in.
Completing a major is compulsory. A major requires 120 credits.
You will have specialist classes in your chosen major. You will also study a range of shared courses and collaborate each semester on external projects, for example:
staging a live show
staging and promoting a tour
developing media campaigns.
Find out more
Seek out and develop new ways to work in the commercial music industry. Learn artist development, management and distribution, and how to stage live events and tours.
Study musicianship and performance in the popular genre of your choice — whether you're a singer, DJ, or in a band. Music Practice will give you the skills and confidence to take risks and make it in the music industry.
Explore and extend how music is created, produced and heard. In Music Technology, you'll work at the intersection of music, creativity and technology.
Minors (Choose 60 credits from)
You may complete a minor by passing at least 60 credits from the schedule for one of the Bachelor of Commercial Music majors, including:
at least 45 credits above 100 level, and
at least 15 credits at 300 level.
Due to prerequisites you may need to complete more than 60 credits to complete your minor. If you're interested in doing a minor you should contact us using the Get advice button on this page. Our student advice team will be able to talk you through your options and help you plan your degree.
Music Industry
Music Practice
Music Technology
Schedule C: Elective courses
Any other courses offered by the University and may include (Choose no more than 60 credits from)
Choose no more than 60 credits from
Fees and scholarships
Scholarships
Fees, student loans and free fees scheme
Your tuition fees may be different depending on the courses you choose. Your exact fees will show once you have chosen your courses.
There will also be some compulsory non-tuition fees and for some courses, there may also be charges for things such as study resources, software, trips and contact workshops.
Already know which courses you're going to choose?
You can view fees for the courses that make up your qualification on the course details pages.
Student loans (StudyLink) and Fees Free scheme
You may be eligible for a student loan to help towards paying your fees.
The New Zealand Government offers fees-free tertiary study for eligible domestic students. Find out more about the scheme and your eligibility on the Fees Free website. To use the site's eligibility checking tool, you will need your National Student Number.
Current and returning Massey students can find their National Student Number in the student portal.
Careers and job opportunities
Recent developments in digital technologies and online platforms offer new and exciting entrepreneurial and employment careers in the music industry. Musicians can compose for films, TV, games, apps and digital platforms, produce recordings, tour, manage artists and promote their brand.
Working behind the scenes, you can find jobs in the recording and publishing industries such as artist and repertoire (A&R), marketing or management. The live sector is also lucrative, and provides jobs in promotion, venue management and a range of other support roles.
If you're interested in music technology you can find entrepreneurial and employment careers in software and hardware development, sound engineering live and in studios, as well as lighting design, and stage and production design.
What our students say
"I play drums for New Zealand artist BENEE. We've toured internationally, travelling all over Europe and America."

"Forward-thinking faculty with great connections with the tight-knit music industry of New Zealand—what else would I be doing?"

"I chose music because I was living and breathing it. I realised I didn't want to do anything other than write music."

Useful planning information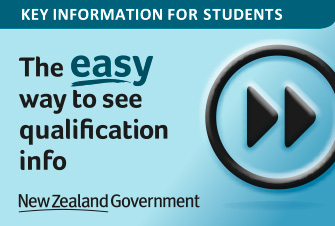 Key information for students
Compare qualifications and academic information across different New Zealand institutions. Learn more on careers.govt.nz