Where you can study
Auckland campus
Distance and online
Manawatū campus (Palmerston North)
International students
International students are not New Zealand citizens or residents.
Not open to international students
Note: Not all courses are available in any one year.
Specialise in Classical Studies for your Diploma in Arts at Massey
Gain a deep understanding of 21st-century culture
Knowledge of ancient Greece and Rome is essential for an understanding of our own modern civilisation. The Greeks and Romans had a profound and lasting influence on world culture in language, philosophy, science, medicine, law, political institutions, art and architecture. They also created and developed nearly every genre of Western literature. 
With a Massey Diploma in Arts (Classical Studies) you can take a variety of courses to trace meaningful connections between classical antiquity and our own 21st-century civilisation.
Follow your passion and enhance your future
Classical studies is interdisciplinary - you can study what you enjoy and focus on subject areas that spark your interest. You can explore the classical world from many angles: literature, history, art, mythology, religion, war, sexuality, and interaction with other civilisations such as Egypt.
Our evidence for the ancient world is challenging; it is sometimes fragmentary, sometimes obscure, often biased or distorted. At Massey you will make sense of it through argument and interpretation, thus acquiring and developing a sought-after range of skills.
World-class learning
Massey offers passionate and friendly lecturers, a world-class distance-learning programme, and multimedia learning materials.
A Diploma in Arts in Classical Studies is a good fit if you:
want to gain an insight into two of the most fascinating civilisations in history
are interested in the ancient roots of modern Western civilisation
want a rich and challenging classical education that will make you very appealing to employers.
Planning information
Full-time study comprises eight 15-credit courses for a total of 120 credits in one year. We recommend you aim for 60 credits per semester.
You may not enrol for a course in Classical Studies with the same title as one for which credit has already been given.
Note that not all courses are available in any one year.
Regardless of whether you complete the diploma with or without an endorsement, if you later proceed to the Bachelor of Arts degree, all of the courses in your Diploma of Arts can be transferred to the Bachelor of Arts.
Official regulations
To understand what you need to study and must complete to graduate read the official rules and regulations for this qualification.
You should read these together with all other relevant Statutes and Regulations of the University including the General Regulations for Undergraduate Degrees, Undergraduate Diplomas, Undergraduate Certificates, Graduate Diplomas and Graduate Certificates.
Returning students
For returning students, there may be changes to the majors and minors available and the courses you need to take. Go to the section called 'Transitional Provisions' in the Regulations to find out more.
In some cases the qualification or specialisation you enrolled in may be no longer be taking new enrolments, so may not appear on these web pages. To find information on the regulations for these qualifications go to the Massey University Calendar.
Please contact us through the Get advice button on this page if you have any questions.
Courses you can enrol in
Course planning key
Prerequisites

Courses that need to be completed before moving onto a course at the next level. For example, a lot of 200-level courses have 100-level prerequisite courses.

Corequisites

Courses that must be completed at the same time as another course are known as corequisite courses.

Restrictions

Some courses are restricted against each other because their content is similar. This means you can only choose one of the offered courses to study and credit to your qualification.
Choose at least 45 credits from
Entry requirements
Admission to Massey
All students must meet university entrance requirements to be admitted to the University.
Specific requirements
There are no specific entry requirements for this qualification, outside of university admission regulations.
English language requirements
To study this qualification you must meet Massey University's English language standards.
English language skills
If you need help with your English language skills before you start university, see our English for Academic Purposes (EAP) courses.
Can't meet the entry requirements?
If you need to do a course before you start your qualification, there may be options for you in Summer School.
Fees and scholarships
Fees, student loans and free fees scheme
Your tuition fees may be different depending on the courses you choose. Your exact fees will show once you have chosen your courses.
There will also be some compulsory non-tuition fees and for some courses, there may also be charges for things such as study resources, software, trips and contact workshops.
Already know which courses you're going to choose?
You can view fees for the courses that make up your qualification on the course details pages.
Student loans (StudyLink) and Fees Free scheme
You may be eligible for a student loan to help towards paying your fees.
The New Zealand Government offers fees-free tertiary study for eligible domestic students. Find out more about the scheme and your eligibility on the Fees Free website. To use the site's eligibility checking tool, you will need your National Student Number.
Current and returning Massey students can find their National Student Number in the student portal.
Careers and job opportunities
The study of classics fosters critical thinking, research skills and organisational techniques, together with a broader understanding of our culture. These flexible skills can lead to careers in any of the fields below, as well as many others:
drama
foreign affairs
journalism
law and politics
libraries
museums
public relations
teaching
trade and industry
university administration.
Related study options
Trace meaningful connections between classical antiquity and our own 21st-century civilisation. You can study the Graduate Certificate in Arts (Classical Studies) without completing a second bachelor's degree.
Study the past, understand the present and help build the world of tomorrow.
Follow your passion for classical studies. Massey's Graduate Diploma in Arts (Classical Studies) will give you the equivalent of an undergraduate major in classical studies without completing a second bachelor's degree.
Useful planning information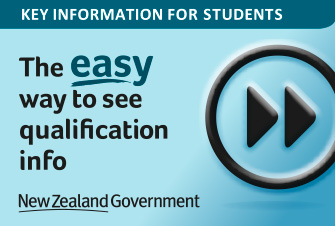 Key information for students
Compare qualifications and academic information across different New Zealand institutions. Learn more on careers.govt.nz