Type of qualification
Diploma
Level of study
Undergraduate study
An undergraduate qualification is usually the first one you study.
NZQF level 6
Our courses follow the New Zealand Qualification Framework (NZQF) levels.
Time to complete
1 year full-time (120 credits)
Up to 8 years part-time
Part-time available
International students
International students are not New Zealand citizens or residents.
Open to international students on campus in New Zealand, or studying online outside New Zealand
Note: Not all courses are available at all campuses or in any one year.
Study a Diploma in Arts – DipArts
Explore tertiary study with a Diploma in Arts. For many students, this is the first step towards taking a full Bachelor of Arts. The Diploma in Arts consists of eight courses (120 credits) from the Bachelor of Arts schedule.
You choose what you study
You can complete the Diploma in Arts with or without an endorsement in a subject area. Completing the diploma without endorsement lets you sample different subjects and build a qualification that reflects your own particular interests.
If you want to take an endorsement, you can choose from 25 subjects from the Bachelor of Arts degree and specialise in the one that sparks your passion.
Massey's Diploma in Arts is extremely flexible and you can include courses from many disciplines, including some from outside the humanities and social sciences.
Why study arts at Massey?
Massey offers passionate and friendly lecturers, a world-class distance learning qualification and access to multi-media learning materials.
The arts – in other words, the subjects of the humanities and social sciences – are the study of humanity: our history, beliefs, societies, languages and cultures. They ask questions about how we think, how we communicate, how we live, and how we interact with our environment. They teach us to analyse the meaning behind what we are, what we do, and how we came to be that way.
Massey will prepare you to be a free and original thinker who will lead New Zealand into the future and help solve some of our big problems.
A DipArts is a good fit if you:
want to take the first step towards a Bachelor of Arts
want the flexibility to follow your passions
have wide-ranging interests.
Entry requirements
Admission to Massey
All students must meet university entrance requirements to be admitted to the University.
Specific requirements
There are no specific entry requirements for this qualification, outside of university admission regulations.
English language requirements
To study this programme you must meet Massey University's English language standards.
Prior learning, credit and exemptions
For information on prior learning, exemptions and transfer of credit or other questions:
If you have already completed a bachelor degree
If you have already completed a bachelor degree you may replace 230111 Tū Kupu: Writing and Inquiry or 230112 Tū Arohae: Critical Thinking with courses of your choice. You will need to apply for replacement courses via a Special permission request in your portal and you will need to attach evidence of your completed degree with the request.
English language skills
If you need help with your English language skills before you start university, see our English for Academic Purposes (EAP) courses.
Official regulations
To understand what you need to study and must complete to graduate read the official rules and regulations for this qualification.
You should read these together with all other relevant Statutes and Regulations of the University including the General Regulations for Undergraduate Degrees, Undergraduate Diplomas, Undergraduate Certificates, Graduate Diplomas and Graduate Certificates.
Returning students
For returning students, there may be changes to the majors and minors available and the courses you need to take. Go to the section called 'Transitional Provisions' in the Regulations to find out more.
In some cases the qualification or specialisation you enrolled in may be no longer be taking new enrolments, so may not appear on these web pages. To find information on the regulations for these qualifications go to the Massey University Calendar.
Please contact us through the Get advice button on this page if you have any questions.
Structure of the Diploma in Arts
If you study full-time you'll take eight 15-credit courses (120 credits) in one year, or 60 credits per semester. You may be able to take some courses at summer school.
Make sure you include courses that are prerequisites for the next level of courses you wish to study.
The Diploma in Arts may be completed with or without an endorsement.
Regardless of whether you complete the diploma with or without an endorsement, if you later proceed to the Bachelor of Arts degree, all of the courses in your Diploma in Arts can be transferred to the Bachelor of Arts.
Courses and specialisations
Key terms
Courses

Each qualification has its own specific set of courses. Some universities call these papers. You enrol in courses after you get accepted into Massey.

Course code

Each course is numbered using 6 digits. The fourth number shows the level of the course. For example, in course 219206, the fourth number is a 2, so it is a 200-level course (usually studied in the second year of full-time study).

Credits

Each course is worth a number of credits. You combine courses (credits) to meet the total number of credits needed for your qualification.

Specialisations

Some qualifications let you choose what subject you'd like to specialise in. Your major or endorsement is what you will take the majority of your courses in.
Credit summary
120 credits
No endorsement option
Core courses

– 30 credits

Courses from the Schedule

– 60 credits

Electives

– 30 credits
Endorsement option
Core courses

– 30 credits

Courses from one endorsement

– 60 credits

Elective

– 30 credits
A specialisation (endorsement) is optional, requiring at least 60 credits from the endorsement, including not more than 30 credits at 100-level.
Ensure across your courses you also have:
Not more than 75 credits at 100 level
At least 45 credits at 200 level or above
Not more than 15 credits above 100-level from outside of the Schedule to the Diploma
Not more than a total of 30 credits from outside of the Schedule to the Diploma.
Course planning key
Prerequisites

Courses that need to be completed before moving onto a course at the next level. For example, a lot of 200-level courses have 100-level prerequisite courses.

Corequisites

Courses that must be completed at the same time as another course are known as corequisite courses.

Restrictions

Some courses are restricted against each other because their content is similar. This means you can only choose one of the offered courses to study and credit to your qualification.
Schedule A: Compulsory Courses (Choose 30 credits from)
Choose 30 credits from
Course code:

230111

Tū Kupu: Writing and Inquiry

credits

15

This course introduces students to cultures of writing and inquiry in the Humanities and Social Sciences. It is designed to help students write effectively at undergraduate level by practising a variety of writing tasks, including analytical, persuasive, and research-based writing and argumentation. Students will learn practices of writing, research, peer-review and revision that have application in the university and broader contexts.

View full course details
Course code:

230112

Tū Arohae: Critical Thinking

credits

15

This course develops students' foundational analytical and critical thinking skills. It is designed to provide students in any discipline with the ability to describe, evaluate, and generate reasoning / arguments effectively, appropriately, and sympathetically, alongside an understanding of the hidden complexities inherent in this approach and its limits when employed as a form of persuasion.

View full course details
Schedule B: BA Core Courses
Course code:

230110

Tūrangawaewae: Identity & Belonging in Aotearoa NZ

credits

15

This course examines formations of identity and belonging in relation to concepts of place and turangawaewae ('standing place'). The multiple factors shaping identity formation, citizenship and public engagement will be explored, and students will develop awareness of and reflect on diverse perspectives regarding identity and citizenship, and apply this understanding to analyse issues in contemporary New Zealand society.

View full course details
Course code:

230210

Tū Rangaranga: Global Encounters

credits

15

The course explores our connections, impacts, and roles in the world, and our rights and responsibilities as global citizens. It examines what citizenship means in 21st century Aotearoa/NZ, given its history, cultural diversity, and place in the global arena. The course introduces the notion of global citizenship, and explores the relationship between individual and collective action in addressing global problems.

View full course details
Course code:

230310

Tū Tira Mai: Practising Engagement

credits

15

The questions of and possibilities for agency and action form the core of this course, through an enquiry-based exploration of the capacities of the humanities and social sciences for action, intervention and contribution in professional and community contexts. The course also covers the development and application of research skills, problem-solving skills, and ethical awareness in addressing practical issues.

View full course details
Schedule C: Endorsements
Some qualifications let you choose what subject you'd like to specialise in. Your major or endorsement is what you will take the majority of your courses in.
You may enrol in this qualification with or without a specialisation (endorsement).
Schedule D: Elective courses (not otherwise included in Endorsements schedule)
Fees and scholarships
Fees, student loans and free fees scheme
Your tuition fees may be different depending on the courses you choose. Your exact fees will show once you have chosen your courses.
There will also be some compulsory non-tuition fees and for some courses, there may also be charges for things such as study resources, software, trips and contact workshops.
Already know which courses you're going to choose?
You can view fees for the courses that make up your qualification on the course details pages.
Student loans (StudyLink) and Fees Free scheme
You may be eligible for a student loan to help towards paying your fees.
The New Zealand Government offers fees-free tertiary study for eligible domestic students. Find out more about the scheme and your eligibility on the Fees Free website. To use the site's eligibility checking tool, you will need your National Student Number.
Current and returning Massey students can find their National Student Number in the student portal.
Careers and job opportunities
Employers need people who can thrive in an ever-changing labour market and effectively challenge and critique new encounters. Our arts qualifications will develop your interpersonal, communication, critical thinking and problem-solving skills to ensure you remain agile enough to take on the opportunities the future holds.
The arts can lead to a wide range of career opportunities including:
advertising
aid and disaster relief workers
business managers
communications
conflict resolution
customs/immigration officers
defence forces
disaster relief
education
family therapists
foreign affairs
human resources
international business
media production
mental health practitioners
novelists
peacekeeping
policy development and analysis
politics
project management
public relations
research managers
risk management
school principals
sign language interpreters
special education needs
specialist teachers
speechwriters
teaching English overseas
translation
travel and hospitality.
Useful planning information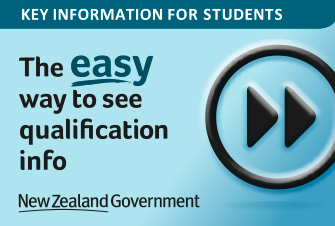 Key information for students
Compare qualifications and academic information across different New Zealand institutions. Learn more on careers.govt.nz