Where you can study
Distance and online
Manawatū campus (Palmerston North)
International students
International students are not New Zealand citizens or residents.
Open to international students on campus in New Zealand
Note: Not all listed subject course options are on offer every year.
Specialise in Ecology for your Master of Science at Massey
Massey University has a large teaching and support staff in ecology and related disciplines, with diverse expertise. As a postgraduate student undertaking master's studies you will have the opportunity to specialise in stimulating subjects ranging from:
biodiversity and biogeography
community ecology
behavioural ecology
lake and river management
plant ecology
modelling animal populations
soil communities and ecosystem function
The Ecology Group at Massey has a large teaching and support staff, with diverse expertise.
You will benefit from Massey's strong collaborative links with:
New Zealand's Department of Conservation
Landcare Research
AgResearch
NIWA
Fish & Game NZ
regional, district and city councils
private sector environmental consulting firms.
Facilities and equipment
The ecology complex at Massey has an excellent range of facilities and equipment including controlled temperature and light rooms, glasshouses and a workshop for making field equipment. There are labs for microscopy and image analysis, chemical analysis, ancient DNA, freshwater fish and invertebrates, insects and plant ecology, animal behaviour and soil invertebrate extraction.
A Master of Science in Ecology is a good fit if you:
are interested in the natural world
enjoy sciences and analysing data
want to have a positive impact on our world and environment.
Planning information
If you study full-time, you'll take 120 credits per year or 60 credits per semester.
The Master of Science is a parts-based qualification. That means you must complete the first part, before moving to the second.
The first part gives you good knowledge and skills that will help you with the research part of your qualification. You must pass Part One before you can progress to Part Two.
Coursework pathway
For progression to Part Two of the Master of Science, you will need a B grade average across the Part One courses including a B grade for the research methods course.
Research pathway
For progression to Part Two of the Master of Science, you will need a B grade average across the first 60 credits of Part One courses including a B grade for the research methods course.
Official regulations
To understand what you need to study and must complete to graduate read the official rules and regulations for this qualification.
You should read these together with all other relevant Statutes and Regulations of the University including the General Regulations for Postgraduate Degrees, Postgraduate Diplomas, and Postgraduate Certificates.
Returning students
For returning students, there may be changes to the majors and minors available and the courses you need to take. Go to the section called 'Transitional Provisions' in the Regulations to find out more.
In some cases the qualification or specialisation you enrolled in may no longer be taking new enrolments, so may not appear on these web pages. To find information on the regulations for these qualifications go to the Massey University Calendar.
Please contact us through the Get advice button on this page if you have any questions.
Courses you can enrol in
Course planning key
Prerequisites

Courses that need to be completed before moving onto a course at the next level. For example, a lot of 200-level courses have 100-level prerequisite courses.

Corequisites

Courses that must be completed at the same time as another course are known as corequisite courses.

Restrictions

Some courses are restricted against each other because their content is similar. This means you can only choose one of the offered courses to study and credit to your qualification.
Part One
Choose 60 credits from
Course code:

162760

Research Methods and Communication in the Biosciences

credits

30

A directed course in research methodology and communication in biosciences. Assignments may include a research proposal, a literature review, scientific writing for a journal and a formal seminar presentation.

View full course details
Course code:

196713

Ecology

credits

30

This course explores contemporary issues in ecology, emphasising a functional outlook on the role of species in communities. It will focus on biodiversity and the interactions of organisms as stimuli for biodiversity. Topics include diversity and ecosystem function, patterns of species diversity, keystone species, herbivory, community structure, assembly roles and food web studies.

View full course details
Part Two
Choose 120 credits from
Course code:

196897

Thesis 120 Credit Part 1

credits

60
Course code:

196898

Thesis 120 Credit Part 2

credits

60
Course code:

196899

Thesis

credits

120
Entry requirements
Admission to Massey
All students must meet university entrance requirements to be admitted to the University.
Specific requirements
To enter the Master of Science (Ecology) you will have been awarded or qualified for:
the Bachelor of Science degree with a major in the intended postgraduate subject, or equivalent, with a minimum B average in the majoring 300-level courses, or
the Bachelor of Science with Honours, in the intended MSc subject, having achieved a B grade average over the contributing courses and a B grade in an approved research methods course, or
the Postgraduate Diploma in Science and Technology in the intended MSc subject, having achieved a B grade average over the contributing courses and a B grade in an approved research methods course, or
the Postgraduate Certificate in Science and Technology in the intended MSc subject, having achieved a B grade average over the contributing courses and a B grade in an approved research methods course.
If you have a Bachelor of Science (Honours), Postgraduate Diploma in Science and Technology, or Postgraduate Certificate in Science and Technology from Massey University as outlined above, you may apply for credit towards Part One of the qualification.
You must submit an approved research supervision plan with your application. This means you need to secure the agreement of a suitable supervisor for your agreed research topic. 
You will need to provide verified copies of all academic transcripts for studies taken at all universities other than Massey University.
English language requirements
To study this qualification you must meet Massey University's English language standards.
English language skills
If you need help with your English language skills before you start university, see our English for Academic Purposes (EAP) courses.
Fees and scholarships
Fees, student loans and free fees scheme
Your tuition fees may be different depending on the courses you choose. Your exact fees will show once you have chosen your courses.
There will also be some compulsory non-tuition fees and for some courses, there may also be charges for things such as study resources, software, trips and contact workshops.
Already know which courses you're going to choose?
You can view fees for the courses that make up your qualification on the course details pages.
Student loans (StudyLink) and Fees Free scheme
You may be eligible for a student loan to help towards paying your fees.
The New Zealand Government offers fees-free tertiary study for eligible domestic students. Find out more about the scheme and your eligibility on the Fees Free website. To use the site's eligibility checking tool, you will need your National Student Number.
Current and returning Massey students can find their National Student Number in the student portal.
Careers and job opportunities
A postgraduate qualification in ecology will allow you to approach many environmental research and management issues from a strong theoretical and practical base. Massey ecology graduates may find employment with the Department of Conservation, regional councils, government research institutes and environmental consultants. Our postgraduate degrees are well regarded internationally so you may continue your studies overseas at a PhD level.
Others have added another specialisation to become an ecotoxicologist, environmental economist, or even an environmental lawyer.
Sought-after by employers
International trends are for employers to reward postgraduate study well, especially in larger enterprises. The skills you learn are increasingly recognised as setting you apart from other potential employees.
Earn more
A 2017 Ministry of Education publication, The post-study earnings and destinations of young domestic graduates, found that in New Zealand:
young master's graduates earn more than one and a half times more than the national median (five years after study)
earnings and employment rates increase with the level of qualification completed
five years after completion, the median earnings of young master's graduates are 15% higher than for those with a bachelor's degree.
International students
New Zealand is a great place to study. Massey University's reputation is supported by our international rankings, accreditations and associations. We are rated five star plus by the QS World University Rankings.
Massey University has small class sizes, and our lecturers and staff are friendly and approachable.
As an international student, there are entry requirements that will apply to you. We recommend that you apply at least three months before your anticipated start date so your application can be processed in time. There are additional steps you will need to take. These include obtaining a visa and travel bookings if your study is to be in New Zealand.
Related study options
From molecules to forests, ecology is a broad discipline that teaches you how to make sense of the interactions between organisms and their environment.
Useful planning information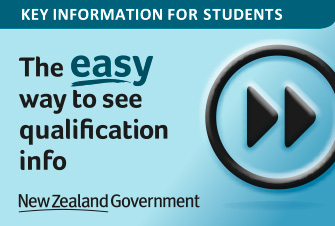 Key information for students
Compare qualifications and academic information across different New Zealand institutions. Learn more on careers.govt.nz