Scholarships on offer
To help fund your studies, check out Massey's range of music-related scholarships.
Let's make music together
Commercial music studies give you the opportunity to work together across production, performing and technology specialisations.
Design your own degree
All Massey design students start with broad core courses. Then in later years you can specialise or gain wide-ranging skills.
Stretch and grow
Do it all at Massey. Learn the fundamentals. Be challenged. Evolve, whether you're just starting out or an established creator.
Overview
Want to work in the music industry? Massey prepares you to take your place on stage, or behind the scenes. We focus on popular music genres and new technology and methods.
Learn from top musicians and other industry professionals with decades of experience in performance, production and promotion. Explore how to make music, and how to make it a commercial success. Work in mixed teams across our three majors — as you will in the music business — to put on gigs, record and create music.
Get hands-on experience in our five recording studios and music tech lab. Master new instruments and equipment. Gain industry experience with internship options.
Commercial music is a good fit if you:
do well in school subjects such as music or technology
want to specialise but also adapt to an ever-change industry
like creativity and collaboration.
Commercial music courses may cover:
composing and performing
instrument design
music production, including industry-standard production tools
music management, such as branding, contracts and events
sound engineering for recordings or live events
streaming and digital media.
Commercial music at College of Creative Arts – Toi Rauwhārangi
How to study commercial music
Discover what we offer if you're interested in commercial music – whether you're coming to university for the first time, changing direction or returning to advance your study or career.
Undergraduate study
An undergraduate qualification is generally the first thing you'll study at university.
Bachelor's degrees
Degrees are the standard qualifications you do at university – the most common is called a bachelor's. Degrees give you enough time to explore your interests, and also focus on specific subjects.
Seek out and develop new ways to work in the commercial music industry. Learn artist development, management and distribution, and how to stage live events and tours.
Study musicianship and performance in the popular genre of your choice — whether you're a singer, DJ, or in a band. Music Practice will give you the skills and confidence to take risks and make it in the music industry.
Explore and extend how music is created, produced and heard. In Music Technology, you'll work at the intersection of music, creativity and technology.
Relevant undergraduate subjects to major or specialise in
When you apply to study at Massey, for some undergraduate qualifications you can choose what subject you'd like to specialise in. You can usually change your mind after you get to university, depending on the courses you enrol in.
Postgraduate study
Once you've graduated with a bachelor's degree – or have equivalent experience – you'll be ready to take on postgraduate study.
What our students say
"I chose music because I was living and breathing it. I realised I didn't want to do anything other than write music."

"Forward-thinking faculty with great connections with the tight-knit music industry of New Zealand—what else would I be doing?"

"I play drums for New Zealand artist BENEE. We've toured internationally, travelling all over Europe and America."

Our facilities
You'll have access to a wide range of first-class facilities when you study with us.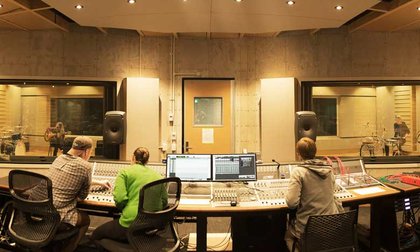 Recording studios
Designed by Munro Acoustics and Athfield Architects, our world-class studios include:
live-rooms controlled by two sought-after desks — 72ch Neve and 48ch SSL Duality analogue console
control rooms with monitoring by Dynaudio Acoustics soffit mounted speakers in 5.1.
Location: Wellington campus
Dubbing theatre
Our 5.1 dubbing studio features:
Avid S6 48ch digital console with 7.1 Dynaudio Acoustics Block monitoring
16ch Avid Icon console.
Location: Wellington campus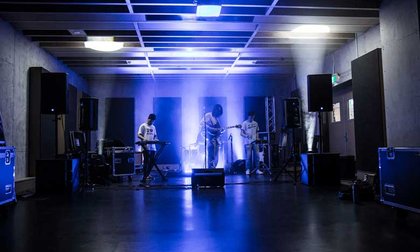 Rehearsal rooms
Students can access five acoustically treated rehearsal rooms with backline and vocal PA systems suitable for modern music.
The production rehearsal room, which also doubles as a live venue, is equipped with PA and full professional lighting rig.
Location: Wellington campus
Jobs in commercial music
The music industry is ever-changing, thanks to creativity and entrepreneurial flair, and to new digital technologies and online platforms.
Commercial music careers include:
composers and songwriters, who also create music for apps, games, films, TV
musicians
producers, who work closely with musicians
promoters and artist managers, who arrange gigs, concerts and other ways to showcase performers
record label or station executive
software or hardware developers, who devise new ways to create or record music
sound engineers
stage or lighting designers.
Annual salary ranges for jobs
Which commercial music qualification?
Examples of where our qualifications may take you.
Table showing jobs and what you could study to enter them.

| Jobs | Examples of what you could study |
| --- | --- |
| Artist manager, label executive or music promoter | Bachelor of Commercial Music (Music Industry) |
| Musician, composer or songwriter | Bachelor of Commercial Music (Music Practice) |
| Sound engineer, lighting designer or software developer | Bachelor of Commercial Music (Music Technology) |
Accreditations and rankings
Get an information guide
Download our guides to find out more about studying commercial music at Massey.
Search courses or qualifications