Where you can study
Wellington campus
International students
International students are not New Zealand citizens or residents.
Open to international students on campus in New Zealand
Note: Selected entry qualification
Specialise in Industrial Design for your Bachelor of Design with Honours at Massey
Industrial design is about designing better and smarter products used in daily life. It includes practical design and study of the manufacture and use of products, equipment, and furniture.
The Bachelor of Design with Honours (Industrial Design) encourages innovative thinking and creative application of new technologies. You'll learn how to meet social, cultural, economic, and environmental needs of people of today and the future.
You'll learn to arrive at design solutions and show them by using many materials and techniques to create models and prototypes with a professional level of finish.
Your learning is studio-project based. You'll research and design a diverse range of items from tools to kitchenware, jewellery to sporting goods, furniture to agricultural equipment. You'll learn how effective use of good design in production and marketing is an essential element in the achievement of business success.
Get the full picture
Further study
Further your design research and practice with a Master of Design or Master of Fine Arts at Massey, or go on to create new knowledge with a PhD.
Planning information
If you study full-time, in your first year, you'll take eight 15-credit courses, making a total of 120 credits.
If you wish to study over two semesters, you should aim for 60 credits per semester. You may be able to take some courses at summer school. Make sure you include courses that are prerequisites for the next level of courses you wish to study.
About this major
The Industrial Design major in the Bachelor of Design with Honours consists of 210 credits.
Minors
Completing a minor is optional and may be a way for you to show the breadth of your degree.
A minor must be in a different subject from your major and be made up of at least 60 credits.
If you're interested in doing a minor you should contact us using the Get advice button on this page. Our student advice team will be able to talk you through your options and help you plan your degree.
More information:  'Yellow Book'.
Official regulations
To understand what you need to study and must complete to graduate read the official rules and regulations for this qualification.
You should read these together with all other relevant Statutes and Regulations of the University including the General Regulations for Undergraduate Degrees, Undergraduate Diplomas, Undergraduate Certificates, Graduate Diplomas and Graduate Certificates.
Returning students
For returning students, there may be changes to the majors and minors available and the courses you need to take. Go to the section called 'Transitional Provisions' in the Regulations to find out more.
In some cases the qualification or specialisation you enrolled in may no longer be taking new enrolments, so may not appear on these web pages. To find information on the regulations for these qualifications go to the Massey University Calendar.
Please contact us through the Get advice button on this page if you have any questions.
Courses you can enrol in
Course planning key
Prerequisites

Courses that need to be completed before moving onto a course at the next level. For example, a lot of 200-level courses have 100-level prerequisite courses.

Corequisites

Courses that must be completed at the same time as another course are known as corequisite courses.

Restrictions

Some courses are restricted against each other because their content is similar. This means you can only choose one of the offered courses to study and credit to your qualification.
Part One
Course code:

198157

Studio I (Object)

credits

15

In this studio course students will be introduced to creative and analytical thinking skills, idea generation and visualisation common to art and design practice. They will begin to acquire specific techniques, skills and processes in three dimensional form-giving, resourceful making and user experience. They will learn to discuss and evaluate their work and the work of their peers.

View full course details
Part Two
Course code:

198257

Design Studio IIA (Industrial)

credits

30

In this studio course students will explore and articulate creative responses to design challenges through critical awareness of contextual issues. Students will develop and apply core techniques, skills and processes in industrial design.

View full course details
Course code:

198258

Design Studio IIB (Industrial)

credits

30

In this studio course students will continue to explore and articulate creative responses to design challenges through critical inquiry into contemporary issues relevant to industrial design. Students will further develop and apply core design techniques, skills and processes.

View full course details
Part Three
Course code:

198357

Design Studio IIIA (Industrial)

credits

30

In this studio course students will establish a critical position through individual or collaborative creative exploration and articulation. With opportunities for varied contextual applications, students will consolidate and expand industrial design concepts, techniques, skills and processes in the production of their creative work.

View full course details
Course code:

198358

Design Studio IIIB (Industrial)

credits

30

In this studio course students will negotiate a critical position through individual or collaborative professional practices, with opportunities to apply their specialist skills to a range of contexts. In addition to advancing industrial design concepts, techniques, skills and processes in the production of their creative work, students will develop and apply transferable skills relevant to professional environments.

View full course details
Part Four
Course code:

198453

Industrial Design Research and Development

credits

30

Research methods, processes and practices for industrial design and their application through a research project.

View full course details
Course code:

198454

Industrial Design Research Project

credits

45
Entry requirements
Admission to Massey
All students must meet university entrance requirements to be admitted to the University.
Specific requirements
This is a selected entry qualification . This means there are a number of extra requirements you must meet. 
To enter the Bachelor of Design with Honours you will:
submit a portfolio (if you do well in NCEA Level 2 art, design or technology (or equivalent) you may not need to submit a portfolio. See details below.)
Application closing date
If you are a new-to-Massey student, applications close on 30 November 2021 (for Semester One start) and 28 June 2022 (for Semester Two start). Late applications will be considered subject to available spaces.
English language requirements
To study this qualification you must meet Massey University's English language standards.
Portfolio requirements
There are three main ways to gain entry to the Bachelor of Design with Honours
Automatic entry
If you achieved NCEA Level 2 or 3 with Merit or Excellence overall, and a Merit or Excellence endorsement in an approved art, design or technology subject, you have automatic entry and will not have to submit a portfolio.
This also applies for Cambridge International students achieving an AS grade A or B in an approved art, design or technology subject.
Portfolio pre-approval entry
You can show work in progress to a Massey College of Creative Arts staff member during a school visit, Massey Open Day or other University event, or in a video call. They'll look at examples of your work with you and if it shows the creative potential we're looking for, they'll sign a portfolio pre-approval letter. Then you won't need to submit a final portfolio with your application.
Portfolio entry
When you apply online, submit a portfolio showing a selection of your creative work that demonstrates your creative potential with your application to study.
See full details about portfolio requirements and pre-approvals
English language skills
If you need help with your English language skills before you start university, see our English for Academic Purposes (EAP) courses.
Can't meet the entry requirements?
If you need to do a course before you start your qualification, there may be options for you in Summer School.
Fees and scholarships
Fees, student loans and free fees scheme
Your tuition fees may be different depending on the courses you choose. Your exact fees will show once you have chosen your courses.
There will also be some compulsory non-tuition fees and for some courses, there may also be charges for things such as study resources, software, trips and contact workshops.
Already know which courses you're going to choose?
You can view fees for the courses that make up your qualification on the course details pages.
Student loans (StudyLink) and Fees Free scheme
You may be eligible for a student loan to help towards paying your fees.
The New Zealand Government offers fees-free tertiary study for eligible domestic students. Find out more about the scheme and your eligibility on the Fees Free website. To use the site's eligibility checking tool, you will need your National Student Number.
Current and returning Massey students can find their National Student Number in the student portal.
Careers and job opportunities
Graduates are well prepared for professional careers in fields like product design consultancies, design departments in manufacturing industries, architectural practices, social services departments, and industrial policy development in private and public corporations.
You will typically start your career as a design assistant or junior designer. You could then progress to senior or management positions in private practices or in manufacturing and construction industries. Some of our graduates have become directors of successful export-orientated manufacturing businesses, or design consultants in both New Zealand and overseas.
Graduates may also continue to postgraduate studies and further develop their design abilities, knowledge and research interests, and skills.
Many of our students have won prestigious national and international design competitions, such as the Dyson, Electrolux, Sony, LG and Red Dot awards. Graduates are working in consumer product companies such as Fisher and Paykel, Apple, Nike and Philips and creative industries such as Weta Workshop.
International students
New Zealand is a great place to study. Massey University's reputation is supported by our international rankings, accreditations and associations. We are rated five star plus by the QS World University Rankings.
Massey University has small class sizes, and our lecturers and staff are friendly and approachable.
As an international student, there are entry requirements that will apply to you. We recommend that you apply at least three months before your anticipated start date so your application can be processed in time. There are additional steps you will need to take. These include obtaining a visa and travel bookings if your study is to be in New Zealand.
What our students say
"Little has been done to develop common tools in the sheep farming industry and I saw a huge opportunity to channel my expertise as an industrial designer."

"You learn so much along the way and you never end up designing what you think you will to start with."

Accreditations and rankings
QS Ranking - Art & Design
College of Creative Arts – Toi Rauwhārangi ranks in the global top 150 for art and design by QS World University Rankings.
Reddot design ranking
Ngā Pae Māhutonga Wellington School of Design is ranked 1st in Asia Pacific by Red Dot in 2019, and continues to be the only school in Australasia to be included in the top 10. Recognition by this international design agency gives us a distinctive seal of quality for our design programmes.
Related study options
Imagine new worlds with Massey's Bachelor of Design with Honours (Concept Design). Learn how to design concepts for entertainment and education within film, animation, television, gaming, and location-based experiences.
Go beyond your bachelor's degree and advance your industrial design knowledge with a Postgraduate Diploma in Design.
Develop your industrial design skills and learn to think like a designer.
Take a unified approach to design. Develop strong design strategies and contextual understanding, applying your technical skills in the design fields of your choice.
From designing a home interior, or public building to an interactive exhibition, or a virtual world, spatial designers have myriad opportunities at their fingertips. Let your imagination soar.
Go beyond your bachelor's degree and advance your spatial design knowledge with a Postgraduate Diploma in Design.
Useful planning information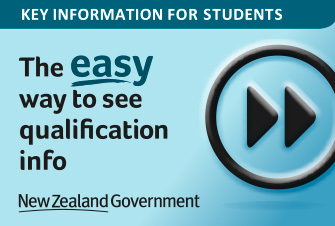 Key information for students
Compare qualifications and academic information across different New Zealand institutions. Learn more on careers.govt.nz