Type of qualification
Certificate
Level of study
Undergraduate study
An undergraduate qualification is usually the first one you study.
NZQF level 6
Our courses follow the New Zealand Qualification Framework (NZQF) levels.
Time to complete
1 year part-time. Not available for full-time study
Up to 8 years part-time
Part-time available
Where you can study
Distance and online
International students
International students are not New Zealand citizens or residents.
Open to international students studying online from outside New Zealand
Study a Certificate in Border and Biosecurity – CertBBiosec
Massey's Certificate in Border and Biosecurity is a part-time, multi-disciplinary border and biosecurity qualification.
Follow your interests
You can choose from a wide range of subject areas including plant and animal science, border security, biosecurity, organisational behaviour, law, globalisation and trade, data management and decision making, logistics and supply chain management.
Study to suit you
Your first year will include two compulsory courses relating to border and biosecurity studies. The rest of your qualification will be made up of elective courses that you choose to suit your interests.
Massey excels at distance learning, and all your teaching will be provided by distance and/or block courses. This offers flexibility for students with jobs or other commitments.
You'll learn about:
the concepts of border security and biosecurity
contemporary border and biosecurity issues and practices, and
the implications of these for countries' national security and the economic and social wellbeing of their people.
Protect New Zealand's economy, taonga and way of life
Biosecurity is a multi-disciplinary practice concerned with protecting valued life from pests and diseases. New Zealand's primary industries are critical to the economy on a local scale and play an important role in food security on a global one. Protecting the biodiversity of indigenous flora and fauna is equally important. The qualification has a distinctly New Zealand focus while maintaining global relevance.
Why Massey?
Massey University offers knowledge and expertise across the breadth of disciplines required for a border and biosecurity qualification. Massey provides a high level of prestige and international recognition for the provision of this qualification, including associated research opportunities.
Industry connections
Massey is well connected within the government sector. Both the Ministry for Primary Industries (MPI) and the New Zealand Customs Service (Customs) are members of Massey University's Strategic Advisory Board, along with other key government security and intelligence agencies. You'll be able to specialise in border management and biosecurity issues that focus on government-relevant skills.
Real-world learning
You'll have the opportunity for applied learning and/or community and civic engagement that will connect you with the wider community and authenticate your study through real-world application.
Further study
On completion of this certificate, you could go on to study a Diploma in Border and Biosecurity. You would then have the opportunity for further university undergraduate study, such as a Bachelor of Arts (Security Studies).
A CertBBiosec is a good fit if you:
work, or wish to work, in a government agency, local council or the primary production sector
aspire to be part of New Zealand's biosecurity front line
want to preserve New Zealand's cultural heritage and natural taonga.
Entry requirements
Admission to Massey
All students must meet university entrance requirements to be admitted to the University.
Specific requirements
There are no specific entry requirements for the Certificate in Border and Biosecurity, outside of university admission regulations.
English language requirements
To study this qualification you must meet Massey University's English language standards.
Prior learning, credit and exemptions
For information on prior learning, exemptions and transfer of credit or other questions:
English language skills
If you need help with your English language skills before you start university, see our English for Academic Purposes (EAP) courses.
Official regulations
To understand what you need to study and must complete to graduate read the official rules and regulations for this qualification.
You should read these together with all other relevant Statutes and Regulations of the University including the General Regulations for Undergraduate Degrees, Undergraduate Diplomas, Undergraduate Certificates, Graduate Diplomas and Graduate Certificates.
Returning students
For returning students, there may be changes to the majors and minors available and the courses you need to take. Go to the section called 'Transitional Provisions' in the Regulations to find out more.
In some cases the qualification or specialisation you enrolled in may no longer be taking new enrolments, so may not appear on these web pages. To find information on the regulations for these qualifications go to the Massey University Calendar.
Please contact us through the Get advice button on this page if you have any questions.
Courses and specialisations
Key terms
Courses

Each qualification has its own specific set of courses. Some universities call these papers. You enrol in courses after you get accepted into Massey.

Course code

Each course is numbered using 6 digits. The fourth number shows the level of the course. For example, in course 219206, the fourth number is a 2, so it is a 200-level course (usually studied in the second year of full-time study).

Credits

Each course is worth a number of credits. You combine courses (credits) to meet the total number of credits needed for your qualification.

Specialisations

Some qualifications let you choose what subject you'd like to specialise in. Your major or endorsement is what you will take the majority of your courses in.
Credit summary
60 credits
Compulsory courses

– 30 credits

Electives from the Schedule

– 30 credits
Course planning key
Prerequisites

Courses that need to be completed before moving onto a course at the next level. For example, a lot of 200-level courses have 100-level prerequisite courses.

Corequisites

Courses that must be completed at the same time as another course are known as corequisite courses.

Restrictions

Some courses are restricted against each other because their content is similar. This means you can only choose one of the offered courses to study and credit to your qualification.
Compulsory courses (Choose 30 credits from)
Choose 30 credits from
Course code:

294101

Introduction to Biosecurity

credits

15

This course exposes students to a range of contemporary biosecurity issues and practices and incorporates a preliminary understanding of conceptual approaches to the management of pest and diseases.

View full course details
Course code:

294170

Introduction to Border Security

credits

15

An introduction to the concept of border security. It will explore security challenges and the implications of these to border security both internationally and for New Zealand. It will also look at the various border security agencies and their responses to managing border security risks with a focus on interagency collaboration, risk management and the impact of policy.

View full course details
Choose no more than 15 credits from
Course code:

119120

Plants for Agriculture and Horticulture

credits

15

An introduction to the agricultural and horticultural species important to New Zealand's economy. Growth and development of agricultural and horticultural plants; their responses to the environment and management, and implications for production. Identification and biology of agricultural and horticultural plants, including weeds, pests and pathogens important to plant production.

View full course details
Course code:

120101

Plant Biology

credits

15

This course is an integrated introductory study of plants. Major themes include: plant form and function (anatomy, morphology, photosynthesis, respiration, transport systems, mineral nutrition); regulation of growth and development, especially in response to the environment; plant diversity (systematics, evolution, life cycles, New Zealand flora); and plants and people (crop domestication, plant breeding and production, Māori plant use).

View full course details
Fees and scholarships
Fees, student loans and free fees scheme
Your tuition fees may be different depending on the courses you choose. Your exact fees will show once you have chosen your courses.
There will also be some compulsory non-tuition fees and for some courses, there may also be charges for things such as study resources, software, trips and contact workshops.
Already know which courses you're going to choose?
You can view fees for the courses that make up your qualification on the course details pages.
Student loans (StudyLink) and Fees Free scheme
You may be eligible for a student loan to help towards paying your fees.
The New Zealand Government offers fees-free tertiary study for eligible domestic students. Find out more about the scheme and your eligibility on the Fees Free website. To use the site's eligibility checking tool, you will need your National Student Number.
Current and returning Massey students can find their National Student Number in the student portal.
Careers and job opportunities
The Certificate in Border and Biosecurity will enhance your career prospects in the primary industries, local bodies and government agencies. You'll have an edge when applying for sought-after roles within organisations such as MPI, Customs, and Maritime New Zealand. Primary sector employees, such as pack house staff, farm managers and labourers, council staff undertaking pest control, and horticulturalists will all benefit from this qualification.
Work here, or overseas
This certificate is highly relevant to the domestic situation and will enhance your career prospects within New Zealand. In addition, as New Zealand is a world leader in border and biosecurity expertise, graduates with this knowledge will also be sought-after internationally.
Useful planning information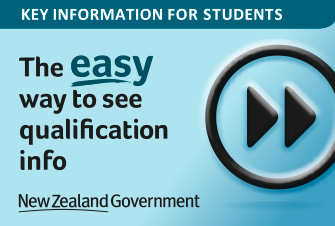 Key information for students
Compare qualifications and academic information across different New Zealand institutions. Learn more on careers.govt.nz