Where you can study
Auckland campus
International students
International students are not New Zealand citizens or residents.
Open to international students on campus in New Zealand
Specialise in Human Nutrition for your Bachelor of Science at Massey
Knowledge about human nutrition and the application of this knowledge are essential elements in maintaining a healthy society.
Human nutrition is a progressive, multi-disciplinary science requiring a wide range of knowledge. That could range from nutrient supply and metabolic processing to psychosocial and behavioural factors influencing diet. The Bachelor of Science (Human Nutrition) is designed to give you a clear understanding of basic nutritional principles. You'll also learn about the composition of food, human requirements for nutrients, and how the body processes food and nutrients.
The qualification also highlights the physiological changes that occur as a result of excesses or deficiencies of various nutrients in the diet. It also looks at the changes in nutritional needs from conception through birth, growth, adulthood, and ageing. You'll gain an understanding of factors that influence food choice and awareness of practices to promote dietary change.
Help ensure people are healthy
With Massey's BSc (Human Nutrition) you'll gain an integrated understanding of nutrition, biochemistry and physiology all related to the human body.
This will give you the knowledge required for enhancing health and fitness in individuals of all ages, and in groups and communities. The major will provide training in practical skills so you can work at promoting good nutritional practices to individuals, communities and industry. You'll also gain an insight into how diet contributes to your own personal health and well-being.
First-class facilities and top lecturers
Massey has the only two Bod Pods in New Zealand and dual energy x-ray absorptiometry (DXA) equipment for measuring bone density and body composition.
Your lecturers are highly qualified and have a wide range of specialist research interests relevant to your study.
Further study
You could progress on to more specialised areas in the Master of Science, including our limited entry nutrition and dietetics qualification in Auckland.
A Bachelor of Science in Human Nutrition is a good fit if you:
enjoy working with people
are fascinated by the relationships between food, nutrients, health and disease
are curious about what makes your body tick.
Planning information
If you study full-time, in your first year, you'll take eight 15-credit courses, making a total of 120 credits.
If you wish to study over two semesters, you should aim for 60 credits per semester. You may be able to take some courses at summer school. Make sure you include courses that are prerequisites for the next level of courses you wish to study.
The first-year structure is designed to provide you with a broad knowledge and skill set which will equip you to go on to more advanced courses in the second and third years.
You must pass at least 90 credits from the BSc Schedule A, including any compulsory courses, in your first 120 credits of study towards the Bachelor of Science.
Human Nutrition has similar first-year core courses to several other majors available in the Bachelor of Science, allowing students to change their major before their second year. Changing your major may incur an increase in completion time.
Suggested structure
100-level courses
Take these in any order:
And take these in the order shown:
Recommended 100-level elective:
151131 Introduction to Food and Nutrition
200-level courses in the major
Recommended 200-level elective:
194242 Physiology of Mammalian Organ Systems*
300-level courses in the major
Recommended 300-level elective:
194350 Human Lifecycle Physiology*
* Prerequisites for progressing to a Master of Science (Nutrition and Dietetics) includes second year biochemistry (122.202 The Dynamic Cell) and second year physiology (194.241 Physiological Control Systems and 194.242 Physiology of Mammalian Organ Systems). 194350 Human Lifecycle Physiology is strongly recommended.
Minors
Completing a minor is optional. Minors increase the breadth of your degree. They give you extra knowledge, attributes and capabilities.
A minor must be in a different subject from your major.
A Bachelor of Science (Human Nutrition) with a minor
You may choose a minor from any university undergraduate degree that has recognised minors. If the minor is from another undergraduate degree, the regulations of that qualification will apply.
Some BSc minors that are particularly compatible with Human Nutrition include those shown below. Timetabling will prioritise these combinations to minimise clashes.
A Human Nutrition minor (for students who are studying a different degree)
If you are not studying a Bachelor of Science (Human Nutrition) and wish to complete a Human Nutrition minor see the BSc regulations for the requirements of this minor.  
Official regulations
To understand what you need to study and must complete to graduate read the official rules and regulations for this qualification.
You should read these together with all other relevant Statutes and Regulations of the University including the General Regulations for Undergraduate Degrees, Undergraduate Diplomas, Undergraduate Certificates, Graduate Diplomas and Graduate Certificates.
Returning students
For returning students, there may be changes to the majors and minors available and the courses you need to take. Go to the section called 'Transitional Provisions' in the Regulations to find out more.
In some cases the qualification or specialisation you enrolled in may no longer be taking new enrolments, so may not appear on these web pages. To find information on the regulations for these qualifications go to the Massey University Calendar.
Please contact us through the Get advice button on this page if you have any questions.
Courses you can enrol in
Course planning key
Prerequisites

Courses that need to be completed before moving onto a course at the next level. For example, a lot of 200-level courses have 100-level prerequisite courses.

Corequisites

Courses that must be completed at the same time as another course are known as corequisite courses.

Restrictions

Some courses are restricted against each other because their content is similar. This means you can only choose one of the offered courses to study and credit to your qualification.
Entry requirements
Admission to Massey
All students must meet university entrance requirements to be admitted to the University.
Specific requirements
There are no specific entry requirements for this qualification, outside of university admission regulations. However, there is some expected background knowledge.
Expected high school preparation
Knowledge gained in the following NCEA subjects (or the equivalent in Cambridge International Examinations, International Baccalaureate, or similar) will give you the expected background knowledge to take this major.
At least 14 credits in NCEA Level 3 Biology.
At least 14 credits in NCEA Level 3 Chemistry.
English language requirements
To study this qualification you must meet Massey University's English language standards.
English language skills
If you need help with your English language skills before you start university, see our English for Academic Purposes (EAP) courses.
Can't meet the entry requirements?
The following pathways will get you prepared to study this major. If you have not studied NCEA Level 3 Biology (or equivalent) take the following course first:
If you have not studied NCEA Level 3 Chemistry (or equivalent) take the following course first:
123103 Chemistry for Modern Sciences.
These courses are available in the summer semester and will count towards credits in your degree.
If you need to do a course before you start your qualification, there may be options for you in Summer School.
Fees and scholarships
Fees, student loans and free fees scheme
Your tuition fees may be different depending on the courses you choose. Your exact fees will show once you have chosen your courses.
There will also be some compulsory non-tuition fees and for some courses, there may also be charges for things such as study resources, software, trips and contact workshops.
Already know which courses you're going to choose?
You can view fees for the courses that make up your qualification on the course details pages.
Student loans (StudyLink) and Fees Free scheme
You may be eligible for a student loan to help towards paying your fees.
The New Zealand Government offers fees-free tertiary study for eligible domestic students. Find out more about the scheme and your eligibility on the Fees Free website. To use the site's eligibility checking tool, you will need your National Student Number.
Current and returning Massey students can find their National Student Number in the student portal.
Careers and job opportunities
A career that makes a difference
You will receive training in practical skills such as dietary assessment and body composition assessment, as well as transferable skills required for critical thinking, problem-solving and effective communication.
This will prepare you for a career where you can make a difference to individuals and your community, and contribute to improvements in the population's health. Nutrition is increasingly relevant in today's society and your skills will be in demand. The availability of suitably qualified human nutritionists contributes to the economic viability of New Zealand as a food-producing and exporting nation.
Nutritionists will also play increasingly important roles in the public health sector as the move towards health promotion continues.
As well as the professional skills you will gain, the BSc (Human Nutrition) gives you an excellent general education in how diet contributes to your own optimal personal health and wellbeing.
International students
New Zealand is a great place to study. Massey University's reputation is supported by our international rankings, accreditations and associations. We are rated five star plus by the QS World University Rankings.
Massey University has small class sizes, and our lecturers and staff are friendly and approachable.
As an international student, there are entry requirements that will apply to you. We recommend that you apply at least three months before your anticipated start date so your application can be processed in time. There are additional steps you will need to take. These include obtaining a visa and travel bookings if your study is to be in New Zealand.
What our students say
"The outstanding facilities and excellent staff members at Massey enabled me to further develop my skills and fulfil my passion for sports and exercise."

Accreditations and rankings
QS Ranking - Biological Sciences
Massey University is ranked by QS (Quacquarelli Symonds) as one of the top 450 universities in the world for biological sciences.
Related study options
Massey's Master of Science (Human Nutrition) will give you the knowledge and experience you need to interpret and contribute to current issues in human nutrition.
Study Massey's Master of Science in Nutrition and Dietetics to learn about the intricacies of and relationships between food, nutrients, health, and disease, and how they can be manipulated to improve health and wellbeing.
Useful planning information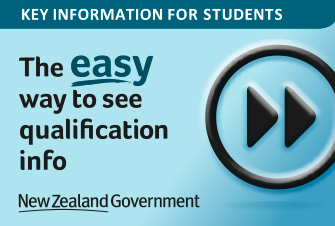 Key information for students
Compare qualifications and academic information across different New Zealand institutions. Learn more on careers.govt.nz