Overview
The School of Nursing – Te Kura Tāpuhi works closely with health organisations in New Zealand and around the world to improve the health of people and their communities.
Our innovative school provides a world-class teaching, learning and research environment in which scholarship and research flourishes. Our teaching programmes emphasise clinical expertise and leadership in nursing.
Te Tiriti o Waitangi
The School of Nursing respects and upholds the principles of te Tiriti o Waitangi. We demonstrate commitment to developing and maintaining culturally safe and competent nursing practice, and act as advocates for tangata whenua.
We focus on the synergies and staircasing of te Tiriti across the nursing course offerings. Attention to contemporary understandings and practices enacting te Tiriti in nursing and health care is a key pillar throughout the school.
Study with us
We are New Zealand's only nursing school offering nursing degrees on two campuses (Palmerston North and Wellington) and the leading provider of highly skilled nurse practitioners.
All our clinical programmes are accredited with the Nursing Council of New Zealand.
Explore by area of interest
Explore a selection of qualifications relating to your interests.
Become a highly skill nurse. We can help — we've been doing it for decades, ranking in the world's top 150 universities for nursing.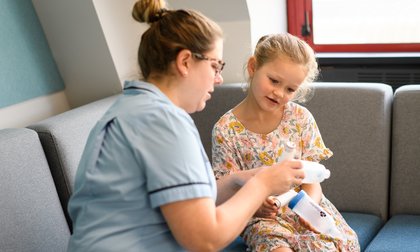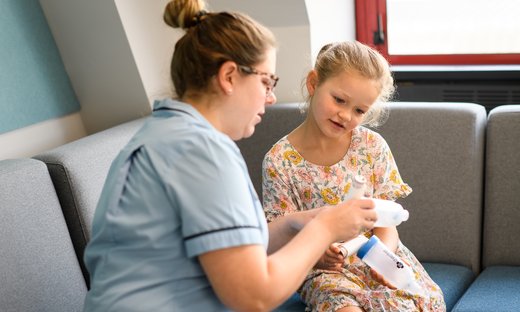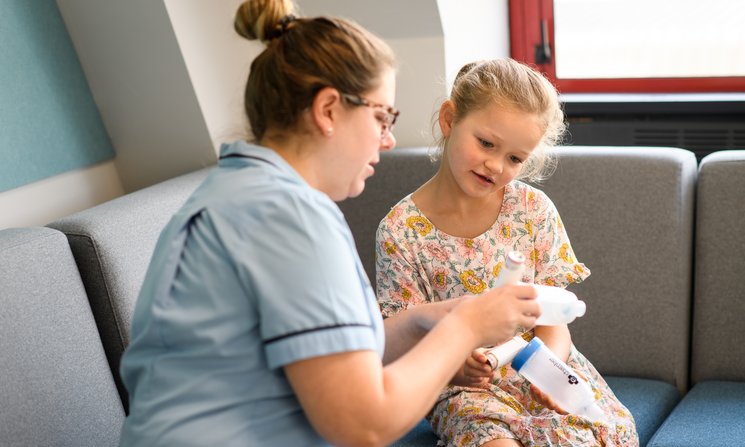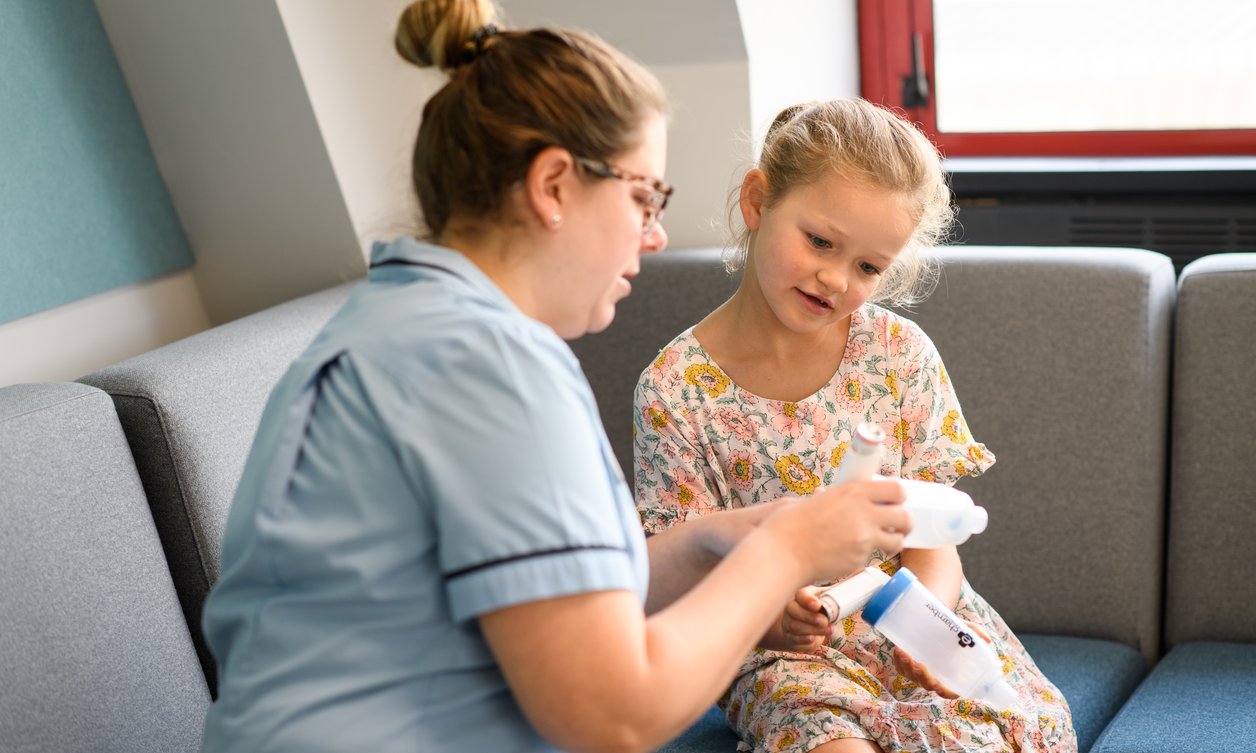 Who we are
Our people make us who we are.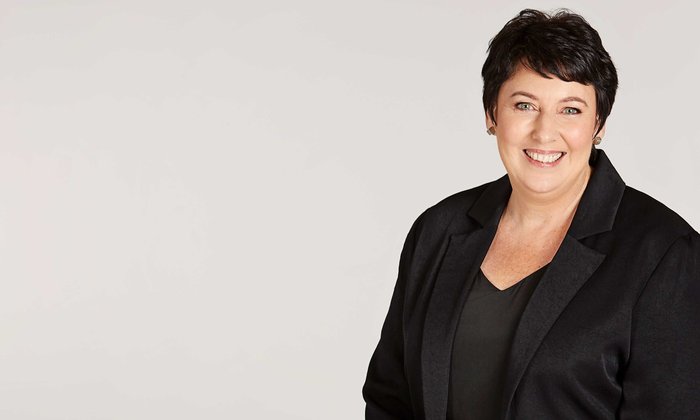 Professor Nicolette Sheridan
Ngāpuhi
Head of School of Nursing
Nicolette Sheridan is one of New Zealand's most highly regarded nurse academics. She has a PhD in Public Health and qualifications in occupational health and education. Nicolette has led international research into equity in healthcare and a national study on the effectiveness of primary care.
Research
Our research strategy aims to build research leadership, capability and capacity. We understand that research and practice are essential partners, and we strive to build academic and industry collaborations locally, nationally and internationally. Our approach is to build translational research and teaching across academic and clinical domains of practice.
Research themes
Primary health care
Including health service models and health equity, and primary health care different populations such as:
Māori and Pacific peoples
children and young people
older adults, including those with long-term conditions and multi-morbidity.
Mental health
Mental health in different settings and within diverse populations such as the Tongan community.
Nursing development
Including the health workforce, and nursing education, theory and practice.
Research projects
Examples of how our people create and share new knowledge.
Accreditations and rankings
Support nursing scholarships
There are currently more than 4,000 nursing vacancies across New Zealand, and our hospitals and medical centres are under enormous pressure.
Massey University's Bachelor of Nursing degree is renowned for the quality of its graduates. You can help us encourage school leavers to enter the nursing profession and ensure our nursing students complete their studies and enter the workforce equipped to deliver the best possible care to New Zealanders. Select Nursing Scholarship Fund as your donation designation to help our nursing students.
Meet our graduates
"I thoroughly enjoyed my time at Massey University and am thankful for the many relationships I developed along the way, the wider network of health professionals I engaged with, and the opportunity to be involved with Massey after graduating."

Siobhan Hennessy
Ngāti Kahungunu
"The Master of Nursing played a crucial part in influencing what I have done so far in my career. The lecturers were supportive and challenged me to think critically and to express my ideas. As a Māori student I was well supported by Massey through Te Rau Puawai – a programme established by Sir Mason Durie."

Valerie Williams
Rongomaiwahine
"The Master of Nursing programme will offer me a tremendous influence on the future of nursing by educating and mentoring junior nurses and student nurses. Being able to play such a vital role in the continuous care of entire global communities is something that most people can only dream of."

For students and our graduates
Become a registered nurse with Massey's Bachelor of Nursing — or Master of Clinical Practice (Nursing) if you already have an undergraduate degree in any discipline.
Postgraduate study at Massey prepares you for clinical leadership roles such as prescribing nurse, clinical nurse specialist or nurse practitioner.
Graduates registering overseas
For Massey graduates applying for registration in another country, the School of Nursing will provide a transcript, the academic certification for your overseas registration process. There is an administration fee.
Meet our graduates
"Massey University has not only provided a foundation for my future in nursing, but it has also given me the opportunity to inspire and bring hope to my own whānau and friends."

Acacia Thompson
Ngāti Wai
"I'd always had an interest in health and wanted to do something that would make a significant contribution to my community. The degree built my confidence in what I am capable of, both academically and practically. It's never too late to start something new at any stage of life."

"My strengths and resilience grew on physical, emotional and psychological levels as my depth of knowledge about health, patients, society and healthcare services grew with the programme."

Facilities
You'll have access to a wide range of first-class facilities when you study with us.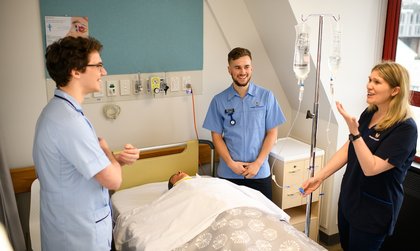 Nursing simulation suites
Suites include:
mock hospital settings
two-way observation spaces
standard nursing equipment for hospital and community work.
Students learn and practice nursing skills through case studies and simulations using actors, interactive manikins and real-time body camera recordings.
Location: Manawatū and Wellington campuses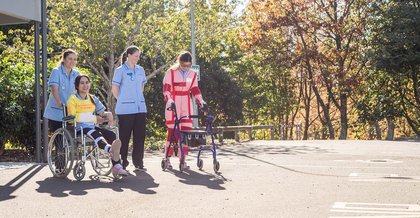 Empathy Lab
Empathy is a key aspect of healthcare. But when you're fit and healthy, it's not always easy to understand the impacts of long-term illness or ageing. Nursing students wear special suits that mimic what it's like to do daily tasks after suffering a stroke, or being restricted by declining health.
Location: Auckland, Manawatū and Wellington campuses
Contact the School of Nursing
We teach on Massey's Palmerston North (Manawatū) and Wellington campuses.
School of Nursing – Manawatū campus
School of Nursing – Wellington campus
Social media
Connect with the College of Health on:
Looking for a staff member? Visit our staff directory or use Expertise search.