Massey is routinely audited by the Academic Quality Agency (AQA). AQA are the external body assuring academic quality across all universities in New Zealand.
These cyclical audits help Massey to improve student engagement, academic experience and learning outcomes.  ​​​​​​​
Massey's academic audit team liaise with AQA, colleges, service providers and student associations within Massey to facilitate the process and gather the information required for the audit.   ​​​​​​​
Cycle 6
Cycle 6 is an 8 to 9 year cycle (slightly longer than the initial 8 year plan due to Covid-19).  Massey is currently in year 4 of Cycle 6 which is at the start of the audit phase.
Cycle 6 commenced in September 2017 and will run until the end of 2024. This cycle is broken up into three phases.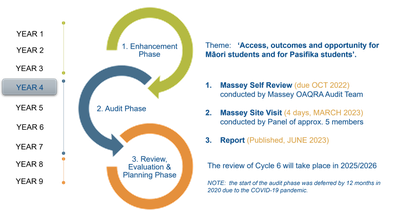 Phase 1: enhancement theme phase
The enhancement theme for Cycle 6 across all eight NZ universities is "Access, outcomes and opportunity for Māori students and for Pasifika students" as supported by the New Zealand Vice-Chancellors Committee (UNZ).
Phase 2: audit phase
The audit phase is split up into two stages:  A self-review and a site visit. In 2022, Massey's academic audit team will be conducting the self-review.  AQA have provided an academic audit framework for Massey to use.
Phase 3: review, evaluation and planning phase
Scheduled for 2025 / 2026, this is AQA's opportunity to review and evaluate cycle 6 and plan for cycle 7.
Self-review
​​​​​​​From February 2022 through to October 2022, the Massey academic audit team will contact each college, each service provider, all student associations and senior management (anyone and everyone at Massey) in order to address the academic audit framework.
Massey is required to consider all students from enrolment to postgraduate, all modes and forms delivery, and all staff who teach or supervise or support teaching or supervision within the university.
Academic Audit Framework
The guideline below includes 30 statements which set out expectations of outcomes and standards that a university of good international standing would be expected to demonstrate. These are divided across 5 sections within Massey:
leadership and management of teaching and learning and academic quality
student life-cycle, support and wellbeing
curriculum, assessment and delivery
teaching quality
supervision of postgraduate research students.​​​​​​​
During the audit phase, Massey will also need to be able to reflect the university's obligations under the New Zealand Education Act:
obligations under Te Tiriti o Waitangi
the interdependence of university research and teaching
Massey's role as critic and conscience of society.
Evidence
As well providing this information, we also need to provide evidence to support our response. The evidence we provide needs to:
be presented in the context of Massey only
reflect on-going commitments Massey has to academic quality including any tensions.
be explicit and sufficient, contextual and draw on multiple perspectives and sources from across Massey
show relevance to the guideline statements and relevance to the embedded or systemic nature of the evidence
reflect a longitudinal component where possible and appropriate
Both Massey and the audit panel aware that evidence may also take a variety of forms. Some evidence may be based on indigenous knowledge systems for example.
Once all 30 guideline statements have been responded to, the self-review report and portfolio of evidence is sent to AQA for review.
Site visit
The audit panel
A panel of auditors will be visiting Massey in March 2023 over the period of 4 days. The panel will includes approximately 5 members including:
an international panel member
a student of recent graduate
a panel member(s) able to bring a Māori, and if possible, Pacific perspective.
This audit will be be held face to face at Massey but may move online if necessary due to Covid-19.
Scope
The audit panel will use the same academic audit framework as the self-review.  This emphasises the importance of providing a good self-review and evidence earlier in the audit phase.  
The panel will hold a number of interviews with key stakeholders within Massey to confirm:
Strategic context and priorities of Massey.
Validation that Massey's self-review is a fair reflection of the university.
Specific probing questions where the panel has insufficient evidence to form a conclusion or requires further questioning.​​​​​​​
Who could be interviewed?
Vice-chancellor, council, senior management
Staff on academic committees
Heads of departments – including new HoDs
Professional staff – teaching and learning, student learning, library
Professional staff – student wellbeing and support (include disabilities)
Māori staff
Pasifika staff
Professorial staff
Academic staff – includes new staff
HR and academic staff development
Postgraduate research students
Undergraduate students
Postgraduate research student office
Academic quality office
Student access, equity, careers, success
Anyone at Massey who fits within the academic audit framework could be interviewed by the panel.
Reporting
After the site visit, Massey will receive a drafted report detailing the panel's findings. We will be given the opportunity to check for factual accuracy. Once confirmed the date for publication of our report to the public will be made available. It is estimated that this will be June 2023.
AQA confirmed audit phase dates
AQA confirmed audit phase dates for Massey University
Date
Audit step

18 July 2022

First planning meeting – AQA and OAQRA.

3 October 2022

Intended panel names are provided to the university.

5 October 2022

Target date for the university to submit self-review portfolio – contingency date 31 October 2022.

17 October 2022

Panel confirmed.

28 November 2022

First Panel meeting.

12 December 2022

Any further evidence requirements advised to the university.

30 January 2023

Second Planning Meeting – with Panel Chair, includes a short meeting with the Vice-Chancellor to advise of any organisational issues the Panel should be aware of. Final decision on mode for site visit.

6 February 2023

Site visit interview schedule (plus contingency schedules) confirmed.

6 March 2023

Site visit (plan for four days to allow for contingencies).

17 April 2023

Draft report to AQA Board.

15 May 2023

Draft report to the university for matters of factual accuracy.

12 June 2023

Audit report releases (revised date to be agreed).

26 June 2023

Feedback on audit experience requested.

June 2024

Draft 1-year follow-up report due.
One-year follow-up meeting with Panel Chair to discuss follow-up report.
Final follow-up report due to AQA. To be published by the university after acceptance by the AQA Board.

June 2025

Two-year follow-up meeting.

TBC

Inter-cycle report due.
Details as of May 2022
Final report
AQA have released Massey's final report to the public that you can now access on the AQA website.  The report contains 15 commendations, 10 affirmations, and 17 recommendations. This is a great outcome for Massey. The recommendations noted are not surprising and are areas that we identified as part of the self-review process.
We have used this process to identify and share good practice amongst members of all the University sections and to build on that good practice. Part of the self-reflection is also to identify and analyse areas where improvement might be made. The University is grateful to the Audit Panel for confirming with us where we can focus our efforts to progress our commitment to our students, staff and university community.
Massey is now in the process of working on these commendations and affirmations to provide an update to AQA by mid-June 2024 and again 2025.
Previous audit reports
​​​​​​​A copy of the reports from previous audits can be found below:
Further information for Massey staff
Additional information about the audit process is available on OneMassey – Academic audit.
Contacts
Micaela Eastwood
Academic Support Consultant
Phone
Fiona Coote
Director - Office of Academic Quality, Reporting and Assurance
Phone