Be part of the solution
Study at Massey will help you to master problem solving and ways to develop best-practice solutions that work for everyone.
Get your hands dirty
With plenty of practical assignments and on-the-job learning at Massey, you'll be job-ready at graduation.
Global recognition
Our qualifications in this area are accredited by international industry bodies, so you can work in New Zealand and overseas.
Go broad or specialise
Massey's large range of science courses means you can specialise in your area of interest or mix and match across disciplines.
Overview
Level up. These aren't just building courses. We offer New Zealand's only degrees specifically developed for the construction industry and accredited by industry bodies such as the Royal Institution of Chartered Surveyors (RICS).
Get hands on with commercial experience and practical assignments on the tools. Master problem solving and best-practice solutions. Explore digital technologies transforming the industry. Graduate work-ready, with qualifications recognised nationally and internationally.
Construction is a good fit if you:
enjoy school subjects such as construction, design or maths
want to improve housing, workplaces and other buildings in a practical way
like problem solving, and developing and following plans.
Construction courses may cover:
construction project management
digital skills such as CAD, BIM (computer modelling of buildings), augmented reality (AR) and virtual reality (VR)
plans and designs
site safety
sustainable design and construction
tools of the trade.
How to study construction and the built environment
Discover what we offer if you're interested in construction and the built environment – whether you're coming to university for the first time, changing direction or returning to advance your study or career.
Undergraduate study
An undergraduate qualification is generally the first thing you'll study at university.
Postgraduate study
Once you've graduated with a bachelor's degree – or have equivalent experience – you'll be ready to take on postgraduate study.
What our students say
"My employer encouraged me to further my study in construction. I chose Massey's Master of Construction as it allowed me to study via distance and block courses while I worked, making for a manageable workload."

"I found this programme challenging, but fun at the same time. We had an awesome lecturer which made the experience unforgettable…" For those of you with an interest in lighting and lighting design, this is definitely the choice for you!"

"Studying at Massey allowed me to both work and study full time. I am now much more advanced in my career than those of similar ages who either just studied or just worked."

Our facilities
You'll have access to a wide range of first-class facilities when you study with us.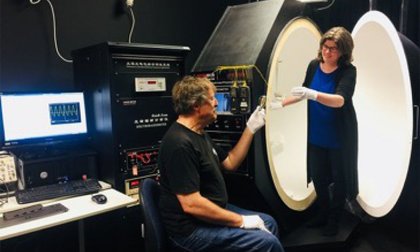 Photometric Laboratory
This state-of-the-art lighting laboratory includes specialist equipment to measure:
colour rending and colour temperature
dominant wavelength
luminosity
power, and more.
Jobs in construction and the built environment
Construction is a fast-growing industry. It ranges from buildings to bridges, roads and sewage systems. Job prospects are good, with high demand for new or renovated homes, commercial buildings and civil projects – and a shortage of workers.
Construction careers include:
construction managers
consultants who specialise in areas such as construction law, digital technologies or sustainable construction
facilities managers, who keep buildings such as factories, hospitals or offices running smoothly
healthy buildings specialists, who focus on energy efficiency and air quality
lighting designers
quantity surveyors, who calculate and control construction budgets
site managers.
Annual salary ranges for jobs
Which construction and built environment qualification?
Examples of where our qualifications may take you.
Table showing jobs and what you could study to enter them.
Jobs
Examples of what you could study
Construction manager or site manager
Bachelor of Construction (Construction Management)
Master of Construction (Construction Project Management)
Master of Construction (Digital Built Environment)
Construction law specialist
Master of Construction (Construction Law)
Postgraduate Diploma in Construction (Construction Law)
Lighting designer
Graduate Certificate in Science and Technology (Lighting)
Quantity surveyor
Bachelor of Construction (Quantity Surveying)
Sustainable design and construction specialist
Master of Construction (Sustainable Built Environment)
Postgraduate Diploma in Construction (Sustainable Built Environment)
Accreditations and rankings
Get an information guide
Download our guide to find out more about studying construction and the built environment at Massey.
Search courses or qualifications