Type of qualification
Bachelor's degree
Level of study
Undergraduate study
An undergraduate qualification is usually the first one you study.
NZQF level 7
Our courses follow the New Zealand Qualification Framework (NZQF) levels.
Time to complete
3 years full-time (360 credits)
Up to 8 years part-time
Part-time available
International students
International students are not New Zealand citizens or residents.
Open to international students on campus in New Zealand
Note: No mid-year intake.
Study a Bachelor of Construction – BConst
The Massey University Bachelor of Construction will teach you how to develop and implement best practice building solutions and construction management techniques. You'll learn how to add value to the sustainable development of the built environment. This qualification will give you sound technical and theoretical knowledge, industry experience, management and interpersonal skills.
Relevant to industry
There are two majors available - Quantity Surveying and Construction Management. These majors focus on relevant industry sectors, such as:
project management and quantity surveying consultancies
building renovation and earthquake strengthening
construction companies
development consortiums
local authorities and regulatory bodies
property development or property management
industrial and commercial building services
insurance rebuild costs.
Digital technology is integral
There is an emerging need in the industry for robust technical skills. You will make extensive use of digital technology during your study. All courses have the knowledge of digital built environment embedded so you are equipped to contribute to the transformation of practice. There are online teaching components where you can ask or answer questions during lectures. Some assignments will require you to prepare a video of your work. Core courses for construction will teach you vital digital such as: Computer Aided Drawing (CAD), computer modelling of buildings (BIM, Augmented and Virtual Reality).
Flexibility
Although you need to choose a major when you enrol, you can change from one major to another after one year of study.
You can choose to complete your final year in distance mode, so you can continue to study while gaining valuable work experience
Further study
If you successfully complete this qualification you could progress to a postgraduate qualification in construction like the Postgraduate Diploma in Construction and the Master of Construction.
A BConst is a good fit if you:
are interested in buildings and how they are constructed
are looking for a career where no two days are the same
are interested in a career offering great salaries.
Entry requirements
Admission to Massey
All students must meet university entrance requirements to be admitted to the University.
Specific requirements
There are no specific entry requirements for this qualification, outside of university admission regulations. 
English language requirements
To study this qualification you must meet Massey University's English language standards.
Prior learning, credit and exemptions
For information on prior learning, exemptions and transfer of credit or other questions:
English language skills
If you need help with your English language skills before you start university, see our English for Academic Purposes (EAP) courses.
Recommended prior learning
You will need to have a good understanding of mathematics to at least Year 12 level.
Can't meet the entry requirements?
If you do not have a strong background in mathematics, but do have an entrance qualification, then you will likely need to take an additional maths course at foundation level, either before or during the first year of your degree.
Official regulations
To understand what you need to study and must complete to graduate read the official rules and regulations for this qualification.
You should read these together with all other relevant Statutes and Regulations of the University including the General Regulations for Undergraduate Degrees, Undergraduate Diplomas, Undergraduate Certificates, Graduate Diplomas and Graduate Certificates.
Returning students
For returning students, there may be changes to the majors and minors available and the courses you need to take. Go to the section called 'Transitional Provisions' in the Regulations to find out more.
In some cases the qualification or specialisation you enrolled in may no longer be taking new enrolments, so may not appear on these web pages. To find information on the regulations for these qualifications go to the Massey University Calendar.
Please contact us through the Get advice button on this page if you have any questions.
Structure of the Bachelor of Construction
The Bachelor of Construction is a parts-based qualification. That means you must complete the first part, before moving to the second etc.
Part One: a mix of construction and business courses, these courses form the foundation of your course.
Part Two: builds on these courses and you will learn about more complex building types, property principles, legal, project management and costing methods.
Part Three: includes more advanced construction courses in procurement and tendering, sustainability and innovation, ethics and other courses relating to your chosen major.
Planning
If you study full-time, in your first year, you'll take eight 15-credit courses, making a total of 120 credits.
If you wish to study over two semesters, you should aim for 60 credits per semester. You may be able to take some courses at summer school. Make sure you include courses that are prerequisites for the next level of courses you wish to study.
It is highly recommended that you plan your entire year of study for this programme to ensure all the courses are available in the appropriate semester you wish to enrol.
The first year courses are the same for both the Quantity Surveying and Construction Management majors. These courses introduce building materials, the building sector, construction of domestic scale buildings, sustainable buildings and computer aided drawing.
First year courses also include core business courses such as finance, accounting and mathematics. The second year focusses on more specialised areas relating to the chosen major. The third year includes a capstone project and is offered in block mode which allows students to work and study. Block mode enables students to attend short blocks of lectures instead of weekly lectures. Outside of these block courses, assessments, tutorials, and learning takes place online.
Over the three years you will study a schedule of courses with strong cross-links, thereby developing a multi-disciplinary approach, focussed on achieving innovation in the construction industry.
Practical experience
You will be required to complete a minimum of 600 hours of approved industry work experience relating to your chosen major. This gives you a balance of practical hands on experience to enhance your academic studies.
Typical pattern for the Bachelor of Construction
Core courses These courses are a compulsory part of your qualification.
Major courses Choose from a selection of courses appropriate for your specialisation.
Year One
115112 Accounting for Business
218104 Mathematics and Structural Principles
218101 Building Materials, Elements and Regulation
218103 Construction Design and Drawings
115114 Finance Fundamentals
218102 Construction Technology & Services I
218105 Integrating Design & Delivery in Built Environment
218106 Construction Health, Safety & Wellbeing
218110 Construction Industry Work Experience I
0 credits
Year Two
127241 Property Market Principles
152252 Project Management
218201 Construction Technology & Services II
218203 Principles of Measurement & Estimation
218204 Construction Contracts and Legal Principles
218224 Construction Technology & Services III
200-level major
200-level major
218210 Construction Industry Work Experience II
0 credits
Year Three
218327 Sustainability & Construction Innovation
218328 Construction Professional Practice & Ethics
218330 Construction Procurement & Tendering
300-level major
300-level major
300-level major
300-level major
300-level major
Courses are each worth 15 credits.
Courses and specialisations
Key terms
Courses

Each qualification has its own specific set of courses. Some universities call these papers. You enrol in courses after you get accepted into Massey.

Course code

Each course is numbered using 6 digits. The fourth number shows the level of the course. For example, in course 219206, the fourth number is a 2, so it is a 200-level course (usually studied in the second year of full-time study).

Credits

Each course is worth a number of credits. You combine courses (credits) to meet the total number of credits needed for your qualification.

Specialisations

Some qualifications let you choose what subject you'd like to specialise in. Your major or endorsement is what you will take the majority of your courses in.
Credit summary
360 credits
Core courses

– 120 credits

Major courses

– 240 credits

600 hours of practical work experience
This is a parts-based qualification. This means there are regulations around your completion of Part One before progressing to Part Two, etc.
Course planning key
Prerequisites

Courses that need to be completed before moving onto a course at the next level. For example, a lot of 200-level courses have 100-level prerequisite courses.

Corequisites

Courses that must be completed at the same time as another course are known as corequisite courses.

Restrictions

Some courses are restricted against each other because their content is similar. This means you can only choose one of the offered courses to study and credit to your qualification.
Part One: Core courses (Choose 120 credits from)
Majors
Some qualifications let you choose what subject you'd like to specialise in. Your major or endorsement is what you will take the majority of your courses in.
A major is compulsory and requires 240 credits. You need to choose a major when you enrol but you can change from one major to the other during your first year of study.
With Massey's Bachelor of Construction (Construction Management), you will be able to make your mark on this growing industry. Most of our students have a cadet position before they have finished their degree.
Work on exciting construction projects from start to finish, ensuring they are well managed financially.
Fees and scholarships
Fees, student loans and free fees scheme
Your tuition fees may be different depending on the courses you choose. Your exact fees will show once you have chosen your courses.
There will also be some compulsory non-tuition fees and for some courses, there may also be charges for things such as study resources, software, trips and contact workshops.
Already know which courses you're going to choose?
You can view fees for the courses that make up your qualification on the course details pages.
Student loans (StudyLink) and Fees Free scheme
You may be eligible for a student loan to help towards paying your fees.
The New Zealand Government offers fees-free tertiary study for eligible domestic students. Find out more about the scheme and your eligibility on the Fees Free website. To use the site's eligibility checking tool, you will need your National Student Number.
Current and returning Massey students can find their National Student Number in the student portal.
Careers and job opportunities
You will be in demand
The New Zealand construction industry is experiencing unprecedented growth. This has led to acute shortages of construction graduates. The demand for construction graduates is expected to stay strong for many years.
Rapid career progression
There are opportunities in all sectors of the built environment. This includes new construction and civil projects, building restoration, earthquake strengthening and insurance valuation.
Wide range of employment
Quantity surveyors are typically involved in the feasibility and costing of projects and are also involved in financial control.
Construction managers are typically involved in all the activities connected to the physical execution of construction projects. They ensure that projects are delivered on time, within budget, at the right quality whilst also keeping with all health and safety requirements.
Both disciplines are vital to the successful conclusion of exciting projects. They could include new commercial buildings, bridges and motorways, agricultural facilities, or housing estates and the development of waterfront sites. Some graduates are self-employed or act as consultants, or work for a contractor.
Accreditations and rankings
Useful planning information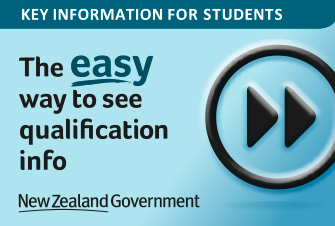 Key information for students
Compare qualifications and academic information across different New Zealand institutions. Learn more on careers.govt.nz