Where you can study
Distance and online
Manawatū campus (Palmerston North)
International students
International students are not New Zealand citizens or residents.
Open to international students on campus in New Zealand
Note: Not all courses are available in any one year.
Specialise in Environmental Studies for your Graduate Diploma in Arts at Massey
The Graduate Diploma in Arts (Environmental Studies) is a bridging tool for graduates in other subjects. This qualification gets you the equivalent of a major in environmental studies.
See the big environmental picture
With Massey's Graduate Diploma in Arts (Environmental Studies) you'll explore the dynamic relationship between human society and our environment. It's a relationship that's always changing. You'll learn to think critically and understand the big picture – instead of seeing environmental questions simply as problems that can be solved easily with a technological fix.
Tailor a qualification that's just for you
With a Graduate Diploma in Arts (Environmental Studies), you can explore environmental studies from a scientific, social, cultural or economic point of view.
A Graduate Diploma in Arts in Environmental Studies is a good fit if you:
have an interest in environmental issues
are concerned about the sustainability of our way of living
want a degree that fits your environmental interests.
Planning information
Full-time study comprises eight 15-credit courses for a total of 120 credits in one year. We recommend you aim for 60 credits per semester.
Not all courses are available in any one year.
100-level prerequisites
When you are granted entry to the qualification, you are not required to pass any 100-level prerequisite course/s for the specialisation. You may need to apply for 200-level courses using the Special Request function in Course Enrolment in your student portal if your previous study was not completed at Massey. If you plan to take any electives in subjects such as Languages, Economics, Mathematics or Statistics, you will need to meet the 100-level prerequisite requirements.
Official regulations
To understand what you need to study and must complete to graduate read the official rules and regulations for this qualification.
You should read these together with all other relevant Statutes and Regulations of the University including the General Regulations for Undergraduate Degrees, Undergraduate Diplomas, Undergraduate Certificates, Graduate Diplomas and Graduate Certificates.
Returning students
For returning students, there may be changes to the majors and minors available and the courses you need to take. Go to the section called 'Transitional Provisions' in the Regulations to find out more.
In some cases the qualification or specialisation you enrolled in may be no longer be taking new enrolments, so may not appear on these web pages. To find information on the regulations for these qualifications go to the Massey University Calendar.
Please contact us through the Get advice button on this page if you have any questions.
Courses you can enrol in
Course planning key
Prerequisites

Courses that need to be completed before moving onto a course at the next level. For example, a lot of 200-level courses have 100-level prerequisite courses.

Corequisites

Courses that must be completed at the same time as another course are known as corequisite courses.

Restrictions

Some courses are restricted against each other because their content is similar. This means you can only choose one of the offered courses to study and credit to your qualification.
Compulsory courses
Choose 30 credits from
Course code:

145213

Resource Conservation and Sustainability

credits

15

Various distinctly geographical approaches to resource conservation are discussed. Topics include: environmental change, human impact, renewable and non-renewable resource conservation, and the role of the state.

View full course details
Course code:

176308

Sociology of the Environment

credits

15

An advanced examination of the interconnections between society and the environment with a particular emphasis on the roles of science and politics in the creation of environmental knowledge and practice.

View full course details
Subject courses
Choose at least 15 credits from
Course code:

121210

Environmental Issues

credits

15

A consideration of major environmental issues that affect, or may affect natural and built ecosystems into the future. Topics include climate change mitigation and adaptation, the 'Ozone Hole', land degradation and soil contamination, increasing water scarcity and pollution, loss of biodiversity and fisheries, sustainability of production and consumption systems, and the sustainability and liveability of major urban centres.

View full course details
Course code:

134218

Environmental Philosophy

credits

15

This course uses philosophy to explore contemporary environmental issues, such as whether our concern for environmental well-being can be adequately grounded in a concern for human well-being, and responses to global conversations around sustainability and 'the rights of nature'.

View full course details
Course code:

146205

Environmental Anthropology

credits

15
Choose 45 credits from
Course code:

121310

Environmental Solutions

credits

15

A consideration of technology and innovation that can be used to measure, manage and mitigate environmental risks to soil and water. Theory and practical exercises based on New Zealand case studies equip students with numerical skills necessary to monitor and evaluate environmental quality. A student-led project allows in-depth study of a New Zealand environmental issue of particular relevance to community.

View full course details
Course code:

131321

Strategies for Sustainable Development

credits

15

A consideration of concepts, processes, practices, and possible strategies for sustainable development at global, national and community levels. Special attention is paid to examples of strategies that seek more sustainable livelihoods.

View full course details
Course code:

132305

Natural Resource Policy and Planning

credits

15

An interdisciplinary approach to the cultural, philosophical, legal, institutional and practical issues involved in the strategic planning and management of New Zealand's natural heritage, including analysis of appropriate New Zealand and international case-studies.

View full course details
Entry requirements
Admission to Massey
All students must meet university entrance requirements to be admitted to the University.
Specific requirements
To enter the Graduate Diploma in Arts (Environmental Studies) you will have been awarded or qualified for a bachelor's degree or equivalent.
You will need to provide verified copies of all academic transcripts for studies taken at all universities other than Massey University.
English language requirements
To study this qualification you must meet Massey University's English language standards.
This qualification is classified as NZQF Level 7 and requires the same English language standard as most undergraduate bachelor degrees, diplomas and certificates.
English language skills
If you need help with your English language skills before you start university, see our English for Academic Purposes (EAP) courses.
Can't meet the entry requirements?
If you need to do a course before you start your qualification, there may be options for you in Summer School.
Fees and scholarships
Fees, student loans and free fees scheme
Your tuition fees may be different depending on the courses you choose. Your exact fees will show once you have chosen your courses.
There will also be some compulsory non-tuition fees and for some courses, there may also be charges for things such as study resources, software, trips and contact workshops.
Already know which courses you're going to choose?
You can view fees for the courses that make up your qualification on the course details pages.
Student loans (StudyLink) and Fees Free scheme
You may be eligible for a student loan to help towards paying your fees.
The New Zealand Government offers fees-free tertiary study for eligible domestic students. Find out more about the scheme and your eligibility on the Fees Free website. To use the site's eligibility checking tool, you will need your National Student Number.
Current and returning Massey students can find their National Student Number in the student portal.
Careers and job opportunities
With a Graduate Diploma in Arts (Environmental Studies) you'll be prepared for a meaningful and important career.
Our society is becoming more environmentally aware, and career opportunities in this area are growing. Many local, regional and national government agencies and community organisations are taking on people to focus specifically on aspects of the environment and how it can be preserved.
Potential career fields include:
allocation of water resources
ecological restoration
endangered species management
waste and toxic substances management
weed and pest management
climate change and carbon management policies.
International students
New Zealand is a great place to study. Massey University's reputation is supported by our international rankings, accreditations and associations. We are rated five star plus by the QS World University Rankings.
Massey University has small class sizes, and our lecturers and staff are friendly and approachable.
As an international student, there are entry requirements that will apply to you. We recommend that you apply at least three months before your anticipated start date so your application can be processed in time. There are additional steps you will need to take. These include obtaining a visa and travel bookings if your study is to be in New Zealand.
Related study options
With Massey's Bachelor of Resource and Environmental Planning you can contribute to shaping the future of liveable cities and regions, ensuring sustainable use of resources.
Studying environmental science at Massey will give you the tools and understanding needed to help create a sustainable path for New Zealand and the world.
Turn your interest in the environment into a career with Massey's Bachelor of Arts (Environmental Studies).
If you are passionate about the natural world, a Diploma in Arts (Environmental Studies) is a good place to begin. You'll explore people's relationships with the environment through different disciplines.
This qualification will give you an advanced grounding in the theory, practice, and application of the UN Sustainable Development Goals related to environmental sustainability.
If you're interested in protecting people's health and wellbeing at a local community level, the Graduate Diploma in Environmental Health is for you.
Gain sought-after, advanced knowledge of current land and water-based environmental management with Massey's Master of Environmental Management.
With Massey's Postgraduate Diploma in Environmental Management, you will gain an in-depth understanding of how the natural environment functions and learn what can be done to address today's environmental challenges.
Useful planning information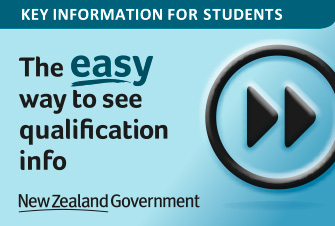 Key information for students
Compare qualifications and academic information across different New Zealand institutions. Learn more on careers.govt.nz