Where you can study
Manawatū campus (Palmerston North)
International students
International students are not New Zealand citizens or residents.
Open to international students on campus in New Zealand
Specialise in Plant Breeding for your Master of Science at Massey
When you study the Master of Science (Plant Breeding) at Massey University you will become a member of a significant international scientific community responsible for global food security.
This plant breeding major is unique in New Zealand. You will gain expertise in:
quantitative genetics & applied plant breeding methods
multisite experimental design
data analysis & interpretation
application of new molecular marker technologies in plant breeding
related disciplines such as agronomy, plant protection, plant physiology.
Take advantage of our globally renowned expertise
This qualification takes a multi-disciplinary and team approach to plant breeding.
You will be taught by highly skilled, internationally recognised and active researchers with expertise in areas like quantitative genetics, molecular biology, applied plant breeding, taxonomy and plant physiology. You'll take part in applied field programs and learn from practising scientists and experienced field breeders.
World-class equipment and facilities
As a plant breeding student, you will have access to Massey's world-leading equipment and facilities such as our extensive glasshouses and farms, molecular genetic labs, the Dame Ella Campbell Herbarium, the Palynology Laboratory, Plant Growth Unit, Seed Testing Services, Massey Genome Service and the Manawatu Microscopy and Imaging Centre.
Relevant and topical
You'll gain real-world experience by working with organisations and academic staff actively engaged in plant breeding research. Physically located near Massey's Manawatū campus, organisations such as AgResearch Grasslands Research Centre, Plant & Food and SCION often co-supervise MSc and PhD students. 
You'll emerge with a relevant qualification valued by potential employers.
Complete in two years
Massey University's Master of Science is primarily a 240 credit master qualification. This is made up of 120 credits of taught courses and a 120 credit research project.
Or if you have already completed the BSc (Hons) or PGDipSc you can conduct a 120 credit thesis to achieve your master's qualification.
---
A Master of Science in Plant Breeding is a good fit if you:
would like a career in plant sciences that involves applied field research and the application of molecular tools
would like to work together with the seed industry and farmers
would like to join an international group of professionals focused on global food production.
Planning information
If you study full-time, you'll take 120 credits per year or 60 credits per semester.
The Master of Science is a parts-based qualification. That means you must complete the first part, before moving to the second.
The first part gives you good knowledge and skills that will help you with the research part of your qualification. You must pass Part One before you can progress to Part Two.
Coursework pathway
For progression to Part Two of the Master of Science, you will need a B grade average across the Part One courses including a B grade for the research methods course.
Research pathway
For progression to Part Two of the Master of Science, you will need a B grade average across the first 60 credits of Part One courses including a B grade for the research methods course.
Official regulations
To understand what you need to study and must complete to graduate read the official rules and regulations for this qualification.
You should read these together with all other relevant Statutes and Regulations of the University including the General Regulations for Postgraduate Degrees, Postgraduate Diplomas, and Postgraduate Certificates.
Returning students
For returning students, there may be changes to the majors and minors available and the courses you need to take. Go to the section called 'Transitional Provisions' in the Regulations to find out more.
In some cases the qualification or specialisation you enrolled in may no longer be taking new enrolments, so may not appear on these web pages. To find information on the regulations for these qualifications go to the Massey University Calendar.
Please contact us through the Get advice button on this page if you have any questions.
Courses you can enrol in
Course planning key
Prerequisites

Courses that need to be completed before moving onto a course at the next level. For example, a lot of 200-level courses have 100-level prerequisite courses.

Corequisites

Courses that must be completed at the same time as another course are known as corequisite courses.

Restrictions

Some courses are restricted against each other because their content is similar. This means you can only choose one of the offered courses to study and credit to your qualification.
Part One
Compulsory course selection
Choose at least 15 credits from
Course code:

119728

Research Methods in Animal, Veterinary and Agricultural Sciences

credits

15

Research methods for students planning to undertake research in animal, veterinary, agricultural, horticultural or applied sciences, with a focus on experimental research designs. Topics include: philosophy of science; research ethics; literature search and review techniques; project development and management; scientific writing; oral presentation skills; vocabulary of statistics; introduction to quantitative data analysis; and completion of a research proposal.

View full course details
Course code:

162760

Research Methods and Communication in the Biosciences

credits

30

A directed course in research methodology and communication in biosciences. Assignments may include a research proposal, a literature review, scientific writing for a journal and a formal seminar presentation.

View full course details
Compulsory courses
Choose 60 credits from
Course code:

283707

Molecular Plant Breeding

credits

30

An overview of methods used in plant breeding. Special emphasis is given to molecular breeding and breeding for tolerance to abiotic stress with topics including mapping, markers and QTL, transgenics, metabolomics, polyploidy, cytogenetics, tissue culture, IP and ethics. A block course allows students to see application of these techniques to plant breeding programmes in industry, and encourages discussion and networking.

View full course details
Course code:

283708

Quantitative Plant Breeding

credits

30

A career development course on the application of quantitative genetics and plant breeding. Topics include objective setting, plant genetic resources, base population development, quantitative genetic variation, selection efficiency, selection of multiple traits, GXE interactions, line development, backcross breeding, recurrent selection and variety development. Two block courses allow students to visit plant breeders, and encourage discussion and networking.

View full course details
Subject courses
Courses at 700 level from the 120, 283 or 284 prefix
Part Two
90 credits from either 120.8xx or 171.8xx course prefix
Entry requirements
Admission to Massey
All students must meet university entrance requirements to be admitted to the University.
Specific requirements
To enter the Master of Science (Plant Breeding) you will have been awarded or qualified for:
the Bachelor of Science degree with a major in the intended postgraduate subject, or equivalent, with a minimum B average in the majoring 300-level courses, or
the Bachelor of Science with Honours, in the intended MSc subject, having achieved a B grade average over the contributing courses and a B grade in an approved research methods course, or
the Postgraduate Diploma in Science and Technology in the intended MSc subject, having achieved a B grade average over the contributing courses and a B grade in an approved research methods course, or
the Postgraduate Certificate in Science and Technology in the intended MSc subject, having achieved a B grade average over the contributing courses and a B grade in an approved research methods course.
If you have a Bachelor of Science (Honours), Postgraduate Diploma in Science and Technology, or Postgraduate Certificate in Science and Technology from Massey University as outlined above, you may apply for credit towards Part One of the qualification.
You must submit an approved research supervision plan with your application. This means you need to secure the agreement of a suitable supervisor for your agreed research topic. 
You will need to provide verified copies of all academic transcripts for studies taken at all universities other than Massey University.
English language requirements
To study this qualification you must meet Massey University's English language standards.
English language skills
If you need help with your English language skills before you start university, see our English for Academic Purposes (EAP) courses.
Fees and scholarships
Fees, student loans and free fees scheme
Your tuition fees may be different depending on the courses you choose. Your exact fees will show once you have chosen your courses.
There will also be some compulsory non-tuition fees and for some courses, there may also be charges for things such as study resources, software, trips and contact workshops.
You can view fees for the courses that make up your qualification on the course details pages.
Student loans (StudyLink) and Fees Free scheme
You may be eligible for a student loan to help towards paying your fees.
The New Zealand Government offers fees-free tertiary study for eligible domestic students. Find out more about the scheme and your eligibility on the Fees Free website. To use the site's eligibility checking tool, you will need your National Student Number.
Current and returning Massey students can find their National Student Number in the student portal.
Careers and job opportunities
You will gain the skills to work as a commercial applied plant breeder, work as a research scientist, continue into a PhD or work as an agricultural advisor.
Highly sought after
Globally there is a shortage of plant breeders, so you will be in demand.
Earn more
A 2017 Ministry of Education publication, The post-study earnings and destinations of young domestic graduates, found that in New Zealand:
young master's graduates earn more than one and a half times more than the national median (five years after study)
earnings and employment rates increase with the level of qualification completed
five years after completion, the median earnings of young master's graduates are 15% higher than for those with a bachelor's degree.
International students
New Zealand is a great place to study. Massey University's reputation is supported by our international rankings, accreditations and associations. We are rated five star plus by the QS World University Rankings.
Massey University has small class sizes, and our lecturers and staff are friendly and approachable.
As an international student, there are entry requirements that will apply to you. We recommend that you apply at least three months before your anticipated start date so your application can be processed in time. There are additional steps you will need to take. These include obtaining a visa and travel bookings if your study is to be in New Zealand.
What our students say
"I chose Massey University for my postgraduate studies because many of my work colleagues had positively spoken of their learning experiences, particularly in undertaking the postgraduate plant breeding papers"

Related study options
Plant Breeding – Postgraduate Diploma in Science and Technology
Specialisation
Join an Industry that is in demand. Many students of Massey's Postgraduate Diploma in Science (Plant Breeding) have jobs before they graduate.
Join the Bachelor of Science (Plant Science) at Massey - the only university in New Zealand where you can study the full spectrum of plant science from molecular biology and evolution, through to agriculture and horticulture.
Useful planning information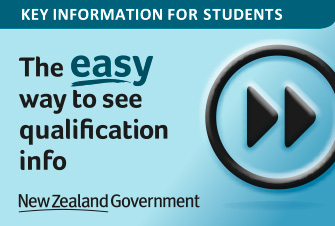 Key information for students
Compare qualifications and academic information across different New Zealand institutions. Learn more on careers.govt.nz