Type of qualification
Postgraduate diploma
Level of study
Postgraduate study
Once you've graduated with a bachelor's degree – or have equal experience – you can study at the postgraduate level. Doctoral qualifications require additional entry requirements.
NZQF level 8
Our courses follow the New Zealand Qualification Framework (NZQF) levels.
Time to complete
1 year full-time (120 credits)
Up to 4 years part-time
Where you can study
Distance and online
International students
International students are not New Zealand citizens or residents.
Not open to international students
Note: Selected entry qualification.
Study a Postgraduate Diploma in Educational and Developmental Psychology – PGDipEdDevPsych
The Postgraduate Diploma in Educational and Developmental Psychology is a one-year internship. It provides a framework for supervised professional practice. Successful completion of this qualification will deem you eligible for registration as an educational psychologist with the New Zealand Psychologists Board.
What does an educational psychologist do?
Being an educational psychologist is a varied and multi-dimensional job and reflects an interest in supporting others to learn and live. Educational psychologists are a unique professional group who have in-depth understanding of psychology, education and learning.
All psychologists are registered with the New Zealand Psychologists Board. Our course leads to a registration under the Education Scope of Practice.
Dynamic learning experience
The qualification has a strong cultural and relational teaching pedagogy, which embeds Mātauranga Māori. You'll have the ability to complete your internship primarily in the Ministry of Education. You'll develop a strong understanding of what it means to be an educational psychologist in Aotearoa New Zealand.
You'll benefit from Massey University's flexible approach to learning and you'll be able to explore the areas you're passionate about.
A PGDipEdDevPsych is a good fit if you:
want to work within an inclusionary framework
wish to be exposed to a wide range of theoretical viewpoints and practical applications
are keen to meet the needs of bicultural New Zealand communities.
Entry requirements
Admission to Massey
All students must meet university entrance requirements to be admitted to the University.
Specific requirements
This is a selected entry qualification. This means there are extra requirements you must meet.
To enter the Postgraduate Diploma in Educational and Developmental Psychology (the internship) you will:
have a B+ average or above over a completed Master of Educational and Developmental Psychology or over a Postgraduate Certificate in Educational and Developmental Psychology (or equivalent)
have been awarded or qualified for least 60 credits of approved psychology courses including at least 45 credits at 200-level or higher
meet all requirements as set by the New Zealand Psychologists Board for registration as an Intern Educational Psychologist, and
meet the requirements as set by the New Zealand Psychologists Board, in terms of good character and fitness to be registered
have access to a suitable psychology practice context and professional supervision for the duration of the programme.
You will need to provide the following documents:
copies of all official academic transcripts for studies taken at all universities other than Massey University
a copy of your current curriculum vitae (including education and employment for at least the last five years)
personal statement/cover letter
a completed New Zealand Police Request and Consent form, along with two pieces of verified identification (one of which must be photographic) from the list of acceptable forms of identification on the checklist (see below)
a copy of a police report from every country you have lived in for more than 12 months in the last 10 years – please do not supply originals.
contact details of two referees
Application closing date
Applications close on Friday 18 August 2023.
Selection interviews will be held on Monday 11 and Tuesday 12 September 2023.
English language requirements
To study this qualification you must meet Massey University's English language standards.
Information session
We have a zoom information session on Friday 7 July 2023 1-2.30pm for anyone interested in knowing more about the Internship and the selection processes for both Massey and the MoE scholarship. Massey staff and a MoE representative will talk at this session and there will be time for Q and A. Here is the link to join the zoom if you are interested  https://massey.zoom.us/j/89679797535
About the selection process
Entry to the Postgraduate Diploma in Educational and Developmental Psychology (the internship) is determined by a selection committee. The purpose of the selection is to determine academic background and experience of applicants to undertake professional training in educational psychology.
Criteria for selection for the Postgraduate Diploma in Educational and Developmental Psychology (the internship) programme are as follows:
Met all the entry requirements for the PGDipEdDevPsych qualification.
Professional background and related experience. You will have relevant background experience in education and may hold an appropriate professional qualification.
Availability of supervision and professional support. While the intention is to make the qualification widely available throughout New Zealand, selection will be dependent upon the availability of supervision and appropriate settings for work experience.
Health and disability
If you have any short or long-term disabilities including a learning disability or health issue that may affect your study, please upload a summary in your application. If you disclose any disability, health or personal information as part of your application, this will be assessed during the selection process and is confidential to the university staff processing your application.
Curriculum vitae
Please provide a full CV including details of your education and professional qualifications, employment history with dates and descriptions of roles and responsibilities, membership of associations/organisations and a list of professional publications and research reports. Please ensure this includes evidence of sufficient background experience.
Personal statement/cover letter
This statement should articulate what you can bring to the role of an educational psychologist including your personal philosophy/philosophies about education and learning and development in the context of Aotearoa.
'Fit and proper person'
Successful completion of this qualification and your internship leads to membership of the New Zealand Psychologists Board. To become a member, you must meet the New Zealand Psychologists Board's criteria for membership. If there are any circumstances in your past personal or professional life that you disclose as a part of your application, these will be assessed during the selection process and are confidential to the university staff assessing your application.
Referees
We require two people who can act as referees for you and who are able to provide informed responses on your personal suitability for the qualification. A referee should be someone who has known you for one year or more in the capacity of employer, educator, work colleague or person of community standing, ie, kaumātua, minister or similar. Your referee should not be a friend, flatmate, relative or someone who has not known you for at least a year. The information your referee supplies is confidential to those involved in the selection process.
Interview
All interviews will take place via Zoom. You are welcome to have whānau or support people with you if you choose. If you are offered an interview you will be sent a Zoom link to access for your interview.
Safety checks and disclosure of criminal convictions
You will be required to undergo a number of safety checks. These include police vetting (including confirmation of identity) and further checks required under the Vulnerable Children Act 2014, Vulnerable Children Regulations 2015 and the Children's Action Plan. You will be required to permit the Institute of Education to ask the New Zealand Police to disclose any information held on the police record system.
Time limits for Honours, Distinction and Merit
Where your qualification is completed within the stated time limit and to a high standard, you may be able to graduate with Distinction or Merit. 
Prior learning, credit and exemptions
For information on prior learning, exemptions and transfer of credit or other questions:
English language skills
If you need help with your English language skills before you start university, see our English for Academic Purposes (EAP) courses.
Maximum time limits for completion
There are maximum time limits to complete postgraduate qualifications.  If you do not complete within the maximum time, you may be required to re-apply for the qualification if you wish to continue your studies.
Official regulations
To understand what you need to study and must complete to graduate read the official rules and regulations for this qualification.
You should read these together with all other relevant Statutes and Regulations of the University including the General Regulations for Postgraduate Degrees, Postgraduate Diplomas, and Postgraduate Certificates.
Returning students
For returning students, there may be changes to the majors and minors available and the courses you need to take. Go to the section called 'Transitional Provisions' in the Regulations to find out more.
In some cases the qualification or specialisation you enrolled in may no longer be taking new enrolments, so may not appear on these web pages. To find information on the regulations for these qualifications go to the Massey University Calendar.
Please contact us through the Get advice button on this page if you have any questions.
Structure of the Postgraduate Diploma in Educational and Developmental Psychology
The Postgraduate Diploma in Educational and Developmental Psychology is awarded without specialisation.
The Postgraduate Diploma in Educational and Developmental Psychology (the internship) is an integrated qualification, so you will normally be enrolled concurrently in all four courses.
Most students complete the qualification in one year (full-time study). In exceptional circumstances and only with the approval of the Academic Board or their delegate, the supervised practical work may be completed part-time over two academic years.
Delivery
Delivery of the Postgraduate Diploma in Educational and Developmental Psychology is by distance mode – you will be required to attend some compulsory on-campus contact workshops.
Qualification structure
To qualify for the diploma, you will need to complete, to the satisfaction of the Academic Board or their delegate, supervised full-time practical work for a period of one academic year, in accordance with the requirements of the courses included in the Schedule to the diploma.
Courses and specialisations
Key terms
Courses

Each qualification has its own specific set of courses. Some universities call these papers. You enrol in courses after you get accepted into Massey.

Course code

Each course is numbered using 6 digits. The fourth number shows the level of the course. For example, in course 219206, the fourth number is a 2, so it is a 200-level course (usually studied in the second year of full-time study).

Credits

Each course is worth a number of credits. You combine courses (credits) to meet the total number of credits needed for your qualification.

Specialisations

Some qualifications let you choose what subject you'd like to specialise in. Your major or endorsement is what you will take the majority of your courses in.
Credit summary
120 credits
Courses from the Schedule

– 120 credits
Supervised full-time practical work for one academic year.
Course planning key
Prerequisites

Courses that need to be completed before moving onto a course at the next level. For example, a lot of 200-level courses have 100-level prerequisite courses.

Corequisites

Courses that must be completed at the same time as another course are known as corequisite courses.

Restrictions

Some courses are restricted against each other because their content is similar. This means you can only choose one of the offered courses to study and credit to your qualification.
Fees and scholarships
Fees, student loans and free fees scheme
Your tuition fees may be different depending on the courses you choose. Your exact fees will show once you have chosen your courses.
There will also be some compulsory non-tuition fees and for some courses, there may also be charges for things such as study resources, software, trips and contact workshops.
Already know which courses you're going to choose?
You can view fees for the courses that make up your qualification on the course details pages.
Student loans (StudyLink) and Fees Free scheme
You may be eligible for a student loan to help towards paying your fees.
The New Zealand Government offers fees-free tertiary study for eligible domestic students. Find out more about the scheme and your eligibility on the Fees Free website. To use the site's eligibility checking tool, you will need your National Student Number.
Current and returning Massey students can find their National Student Number in the student portal.
Careers and job opportunities
The Postgraduate Diploma in Educational and Developmental Psychology is your pathway to becoming an educational psychologist. Successful completion of this internship programme will deem you eligible for registration as an educational psychologist with the New Zealand Psychologists Board.
There is a demand for educational psychologists in New Zealand. If you enjoy people, love learning, and are creative, this is an exciting profession. It leads to a vast range of professional opportunities in the areas of learning, assessment, leadership and management in educational and workplace settings.
What our students say
"I felt that my knowledge and skills increased at an exponential rate."

Accreditations and rankings
QS Ranking - Education
Massey is ranked in the world's top 250 universities for education in the Quacquarelli Symonds (QS) World University Rankings.
QS Ranking - Psychology
Massey is ranked in the world's top 250 universities for psychology by Quacquarelli Symonds (QS).
Useful planning information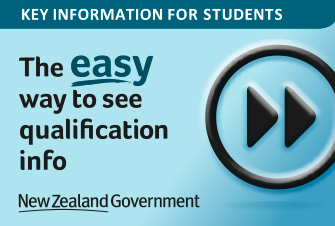 Key information for students
Compare qualifications and academic information across different New Zealand institutions. Learn more on careers.govt.nz