Type of qualification
Bachelor's degree with honours
Level of study
Undergraduate study
An undergraduate qualification is usually the first one you study.
NZQF level 8
Our courses follow the New Zealand Qualification Framework (NZQF) levels.
Time to complete
4 years full-time (480 credits)
Up to 8 years part-time
International students
International students are not New Zealand citizens or residents.
Open to international students on campus in New Zealand
Study a Bachelor of Screen Arts with Honours – BSA(Hons)
The Bachelor of Screen Arts with Honours replaces the Bachelor of Creative Media Production and offers exciting new opportunities for Aotearoa New Zealand's emerging screen artists.
Gain the skills and creativity to realise your vision across a wide range of screen-based specialisations. This four-year Honours qualification also has an exit point at third year for students who wish to graduate with a Bachelor of Screen Arts.
With an emphasis on production, you'll take projects through development of initial concepts and narratives to a completed and distributable work. You'll respond to briefs that combine creative studio practice, storytelling, professional practice and portfolio development, using industry-standard production facilities, studios and labs.
In your second and third years, you will explore your chosen medium in depth, exploring both how it operates and what it means to tell your stories in your way. You will then advance your production skills with media production practices. You'll learn about media business and the creative economy, and how to evaluate and develop ideas for the marketplace.
In your final year, you will have the chance to develop a year-long collaborative creative project. Your student-led team will work with industry mentors on a real-life client project through the key stages of planning, pre-production, production and post-production.
Learn from industry professionals
BSA(Hons) is taught by people who know the industry, including former staff of Weta Digital, Weta Workshop, Park Road Post, TVNZ and the BBC.
Get the full picture
A BSA(Hons) is a good fit if you:
want to work hands-on with projects across a range of screen and digital media
want to benefit from the college's extensive industry connections
want to master industry-standard production facilities
Entry requirements
Admission to Massey
All students must meet university entrance requirements to be admitted to the University.
Specific requirements
There are no specific entry requirements for this qualification, outside of university admission regulations.  
English language requirements
To study this qualification you must meet Massey University's English language standards.
Prior learning, credit and exemptions
For information on prior learning, exemptions and transfer of credit or other questions:
English language skills
If you need help with your English language skills before you start university, see our English for Academic Purposes (EAP) courses.
Maximum time limits for completion
There are maximum time limits to complete some undergraduate and all postgraduate qualifications. If you do not complete within the maximum time, you may be required to re-apply for the qualification if you wish to continue your studies.
Time limits for Honours, Distinction and Merit
If you complete this qualification within the stated time limit, you will normally be able to graduate with a class of Honours.
Look for further information under 'Student Progression' in the regulations for this qualification.
More information
Official regulations
To understand what you need to study and must complete to graduate read the official rules and regulations for this qualification.
You should read these together with all other relevant Statutes and Regulations of the University including the General Regulations for Undergraduate Degrees, Undergraduate Diplomas, Undergraduate Certificates, Graduate Diplomas and Graduate Certificates.
Returning students
For returning students, there may be changes to the majors and minors available and the courses you need to take. Go to the section called 'Transitional Provisions' in the Regulations to find out more.
In some cases the qualification or specialisation you enrolled in may no longer be taking new enrolments, so may not appear on these web pages. To find information on the regulations for these qualifications go to the Massey University Calendar.
Please contact us through the Get advice button on this page if you have any questions.
Structure of the Bachelor of Screen Arts with Honours
The first year introduces you to the basic skills, technologies, professional practices and concepts needed to commence your learning as an emerging creative practitioner in Aotearoa New Zealand and overseas.
The second year develops these skills further, utilising the specialisation production courses as the place to embed learning around exercises and smaller, focused individual works, while the specialisation project courses function as the site where you will work together on production-based projects and where the works undertaken are of a more substantial scale than those in the production courses.
The third year continues to develop major specialisation skills and provides an opportunity for you to collaborate with fourth year students on honours projects while developing your own work within the production and project courses.
The fourth (honours) year provides you with the opportunity to focus on a more ambitious year long, research-informed creative project.
More information: Undergraduate Course Guide
Courses and specialisations
Key terms
Courses

Each qualification has its own specific set of courses. Some universities call these papers. You enrol in courses after you get accepted into Massey.

Course code

Each course is numbered using 6 digits. The fourth number shows the level of the course. For example, in course 219206, the fourth number is a 2, so it is a 200-level course (usually studied in the second year of full-time study).

Credits

Each course is worth a number of credits. You combine courses (credits) to meet the total number of credits needed for your qualification.

Specialisations

Some qualifications let you choose what subject you'd like to specialise in. Your major or endorsement is what you will take the majority of your courses in.
Credit summary
480 credits
Compulsory core courses

– 180 credits

Compulsory course selection

– 45 credits

Major courses

– 180 credits

Electives

– 75 credits
Ensure that overall, you have:
Not more than 165 credits at 100 level
At least 90 credits at 200 level
At least 105 credits at 300 level
At least 120 credits at 700 level or above
Course planning key
Prerequisites

Courses that need to be completed before moving onto a course at the next level. For example, a lot of 200-level courses have 100-level prerequisite courses.

Corequisites

Courses that must be completed at the same time as another course are known as corequisite courses.

Restrictions

Some courses are restricted against each other because their content is similar. This means you can only choose one of the offered courses to study and credit to your qualification.
Schedule A: Core courses
Compulsory courses (Choose 180 credits from)
Schedule B: Majors
Some qualifications let you choose what subject you'd like to specialise in. Your major or endorsement is what you will take the majority of your courses in.
Completing a major is compulsory. A major requires 180 credits.  
Animation is a huge industry, found in almost all the visual media we consume, such as games, film, television, and interactive media.
Storytelling is the basis for all human connection, and stories that tell us about real people, situations and issues are compelling touchstones in relating to our fast-changing times. True stories shape our identity and reflect our world back to us.
The Film Production major offers comprehensive, practical filmmaking, covering all aspects of film production including creative development, pre-production, production and post-production.
Games are one of the most powerful forms of storytelling, allowing players to creatively engage with characters and narratives in innovative ways.
Virtual and Augmented Realities (VR and AR) allow new ways for us to blend the physical and digital worlds, creating uncharted possibilities for the future.
The evolution of media technologies and screen production, driven by digital innovation, is offering new ways of working and is creating new tools and techniques for content production and consumption.
The Visual Effects major provides expertise in creating fantastic characters and scenes for all forms of screen media.
Schedule C: Elective courses
Any other University course
Fees and scholarships
Fees, student loans and free fees scheme
Your tuition fees may be different depending on the courses you choose. Your exact fees will show once you have chosen your courses.
There will also be some compulsory non-tuition fees and for some courses, there may also be charges for things such as study resources, software, trips and contact workshops.
Already know which courses you're going to choose?
You can view fees for the courses that make up your qualification on the course details pages.
Student loans (StudyLink) and Fees Free scheme
You may be eligible for a student loan to help towards paying your fees.
The New Zealand Government offers fees-free tertiary study for eligible domestic students. Find out more about the scheme and your eligibility on the Fees Free website. To use the site's eligibility checking tool, you will need your National Student Number.
Current and returning Massey students can find their National Student Number in the student portal.
Careers and job opportunities
The 21st century is all about media convergence and change. Games, apps, web, film, TV, video, animation, visual effects, audio, immersive and media technologies – are all evolving rapidly. The Bachelor of Screen Arts with Honours sets you up for the new world. With your industry experience, critical grounding and practical know-how, you'll hit the ground running when you graduate. You'll have the flexibility to push the boundaries, re-inventing your craft and your media many times over the course of your career.
Useful planning information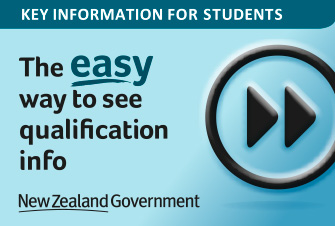 Key information for students
Compare qualifications and academic information across different New Zealand institutions. Learn more on careers.govt.nz