Where you can study
Wellington campus
International students
International students are not New Zealand citizens or residents.
Open to international students on campus in New Zealand
Specialise in Visual Effects for your Bachelor of Screen Arts with Honours at Massey
The Visual Effects major teaches you the skills to develop an exciting professional portfolio of work that you can carry into your visual effects career.
Design and control visual destruction, explosions, fluids – you name it – using both procedural and keyframed motion, and fully integrate your visual effects into live-action footage from concept to postproduction.
Gain skills that will help you create fantastic characters and scenes using traditional techniques and advanced technology. Study character design, 3D modelling, texturing and rigging, storyboarding, compositing, particle generation and dynamics. You'll work with motion capture, virtual production, and a green screen stage.
Facilities
Visual Effects students will have access to world-leading and cutting-edge hardware, such as motion capture facilities, and software including Houdini, Maya, Nuke, After Effects, Photoshop, Blender, and Renderman.
Courses you can enrol in
Course planning key
Prerequisites

Courses that need to be completed before moving onto a course at the next level. For example, a lot of 200-level courses have 100-level prerequisite courses.

Corequisites

Courses that must be completed at the same time as another course are known as corequisite courses.

Restrictions

Some courses are restricted against each other because their content is similar. This means you can only choose one of the offered courses to study and credit to your qualification.
Entry requirements
Admission to Massey
All students must meet university entrance requirements to be admitted to the University.
Specific requirements
There are no specific entry requirements for this qualification, outside of university admission regulations.  
English language requirements
To study this qualification you must meet Massey University's English language standards.
English language skills
If you need help with your English language skills before you start university, see our English for Academic Purposes (EAP) courses.
Can't meet the entry requirements?
If you need to do a course before you start your programme, there may be options for you in Summer School.
Fees and scholarships
Fees, student loans and free fees scheme
Your tuition fees may be different depending on the courses you choose. Your exact fees will show once you have chosen your courses.
There will also be some compulsory non-tuition fees and for some courses, there may also be charges for things such as study resources, software, trips and contact workshops.
Already know which courses you're going to choose?
You can view fees for the courses that make up your qualification on the course details pages.
Student loans (StudyLink) and Fees Free scheme
You may be eligible for a student loan to help towards paying your fees.
The New Zealand Government offers fees-free tertiary study for eligible domestic students. Find out more about the scheme and your eligibility on the Fees Free website. To use the site's eligibility checking tool, you will need your National Student Number.
Current and returning Massey students can find their National Student Number in the student portal.
Careers and job opportunities
Visual effects producer, special effects technical director, virtual producer, editor, media technologies developer, 3D modeller, rigger, art director, VR/AR developer, audio producer, CG artist, motion capture animator, digital effects artist.
International students
New Zealand is a great place to study. Massey University's reputation is supported by our international rankings, accreditations and associations. We are rated 5-star plus by the QS World University Rankings.
Massey University has small class sizes, and our lecturers and staff are friendly and approachable.
As an international student, there are entry requirements that will apply to you. We recommend that you apply at least three months before your anticipated start date so your application can be processed in time. There are additional steps you will need to take. These include obtaining a visa and travel bookings if your study is to be in New Zealand.
Related study options
Animation – Bachelor of Screen Arts with Honours
Specialisation
Animation is a huge industry, found in almost all the visual media we consume, such as games, film, television, and interactive media.
Storytelling is the basis for all human connection, and stories that tell us about real people, situations and issues are compelling touchstones in relating to our fast-changing times. True stories shape our identity and reflect our world back to us.
The Film Production major offers comprehensive, practical filmmaking, covering all aspects of film production including creative development, pre-production, production and post-production.
Games are one of the most powerful forms of storytelling, allowing players to creatively engage with characters and narratives in innovative ways.
Virtual and Augmented Realities (VR and AR) allow new ways for us to blend the physical and digital worlds, creating uncharted possibilities for the future.
The evolution of media technologies and screen production, driven by digital innovation, is offering new ways of working and is creating new tools and techniques for content production and consumption.
Useful planning information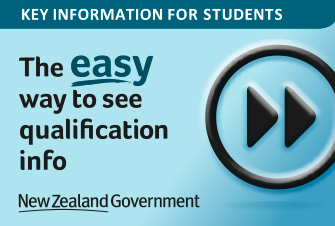 Key information for students
Compare qualifications and academic information across different New Zealand institutions. Learn more on careers.govt.nz