Striving to be Tiriti-led
We work to uphold the principles of te Tiriti o Waitangi – and to empower all New Zealanders, especially Māori.
Where ever, when ever works
Choose from 1,500+ Massey courses for your distance study. Learn from specialists in distance and online teaching.
Get ahead at work
Expand your existing expertise at work or advance your career with Massey. Or change direction with a new qualification.
Highly sought after
Employers like the mix of values, practical competencies and relevant knowledge that Massey graduates are known for.
Overview
Don't just study business. Practice business at Massey to get all-important experience before you even graduate. We partner with leading companies to offer internships. Get hands-on experience in areas such as business analytics or HR. Or you can practice buying and selling NZX shares in our Trading Room, which simulates an NZX trading floor.
Many of our postgraduate qualifications are designed for people already in work, including part-time and online options so you can balance study with your job.
Because the business world changes fast, we also focus on critical thinking and building resilience and adaptability in our graduates.
Learn from lecturers and business experts in areas such as:
Massey Business School is New Zealand's largest business school, rated first in the country by Shanghai Rankings, with internationally accredited qualifications, strong industry connections, and vibrant research.
Join us to give yourself a boost in the competitive world of business.
What you could study
Here is a small sample of the qualifications and courses you could study as a Massey business student.
Undergraduate qualifications
An undergraduate qualification is generally the first thing you'll study when you start at university.
When you study the Bachelor of Business you will gain research and practice-informed business knowledge. You will develop the leadership, communication, teamwork, and creative skills that employers are looking for.
Keen to become a professional accountant? New Zealand's only Bachelor of Accountancy will lead you to an accountancy career, and membership of a professional accounting organisation.
At Massey, many of our agribusiness students have jobs before they even graduate. Join to gain the skills and sound business knowledge to help progress the future of New Zealand's primary production sector.
Become a pilot with a difference. Gain a professional qualification that integrates flight training with university study.
If you are passionate about aviation and are interested in the broader picture of the aviation industry, this is the degree for you.
Become a well-rounded, innovative communication specialist, who is sought-after by employers with Massey's Bachelor of Communication.
Take the first step towards a degree in business with Massey's Certificate in Business Studies.
Join a flexible qualification that suits you and gain introductory business knowledge with Massey's Diploma in Business Studies.
Do you want to change the direction of your career? The Graduate Diploma in Business Studies enables you to study another subject without completing a second bachelor's degree.
Postgraduate qualifications
Once you've graduated with a bachelor's degree – or have equivalent experience – you'll be ready to take on postgraduate study.
The Master of Management is a professional qualification, designed to increase your business knowledge and develop the skills you need for effective management of people within your organisation and externally.
Develop important business skills through a qualification that is closely connected to business practice. 
Massey's MBA offers unique features that help speed you along on your career path in New Zealand or 
globally.
The Executive MBA (EMBA) is a 240-credit, world-class, career development qualification that prepares you to take on top-level roles in business, government, and non-profit organisations in New Zealand and globally.
Gain in-depth specialist business skills that will take your career to the next level.
Massey's Master of Finance combines the study of advanced finance theory with the choice of completing the qualification either by undertaking a Research option or a Professional option.
Take your accountancy career to the next level. You'll gain an excellent understanding of accountancy principles and practical applications, skills that employers are looking for.
Enhance your career prospects in the internationally competitive aviation sector with the Master of Aviation. Massey is the only place in New Zealand where you can turn your passion for aviation into a tertiary qualification.
A unique qualification focusing on how to transform data into intelligence that drives innovation and new discoveries across organisations, while empowering businesses with a competitive advantage and better decision-making.
Through Massey's internationally recognised, Master of Health Service Management qualification you'll gain the expertise to advance your career.
Gain practical business skills that employers are searching for with Massey's Postgraduate Diploma in Business. You'll be able to design this qualification to suit your interests and your lifestyle.
Whether you're interested in a specific professional development course, or entry to further study, the Postgraduate Certificate in Business offers the flexibility to study in the areas you choose.
Search courses or qualifications
What our students say
"I'm an international student doing a Bachelor of Accountancy at Massey, and my experience has been wonderful. Lecturers are dedicated and friendly, the courses are well laid out, the teaching is fantastic. It is immediately obvious that staff all genuinely want you to do your very best."

"I've benefited a lot from the connections made, and the applied learning at Massey Business School. It's important to remember that you need these connections to expand your career opportunities. After graduating, I've been asked to come back and share my experiences from the workplace, and how the skills developed at Uni can be applied in the real world."

"I'm a Massey graduate from the early 1990s, completing my undergraduate science studies and then a MSc. Having gone through Medical School after my Masters, I have now found myself requiring some extra management/business skills development for my current role. It was an easy decision to re-enrol at Massey in the Master of Health Service Management, and I have thoroughly enjoyed each paper."

Our facilities
You'll have access to a wide range of first-class facilities when you study business with us. Here's a snapshot of what's on offer.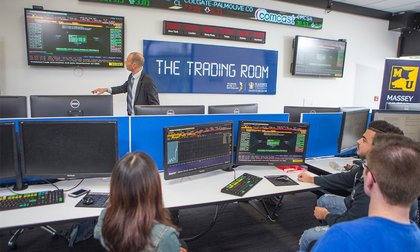 Trading Room
The Massey University Trading Room was the first of its kind in New Zealand - fully-functional trading room to aid student learning.
It contains Bloomberg financial terminals, a live stock price ticker and information and news screens and gives Massey's finance students real-life fund management experience.
Location: Auckland campus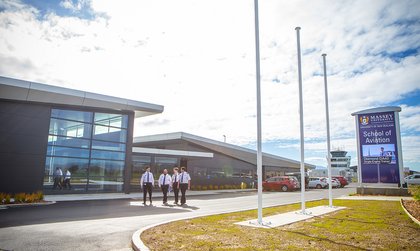 Aviation Centre
One of a kind in New Zealand. It includes:
Diamond DA40 and DA42 aircraft
flight simulators
maintenance hangers
operations area
classrooms and briefing rooms overlooking runways.
Location: Palmerston North Airport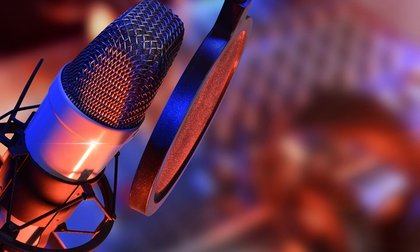 Audio
Our world-class equipment and facilities include:
audio booths for interviews or podcasting
dubbing theatre
live-rooms controlled by two of the world's most sought-after desks – 72ch Neve and 48ch SSL Duality analogue console
studio equipped with the latest Avid hardware.
ecentre: Develop your entrepreneurial mindset
Got a business idea? ecentre helps students and staff gain hands-on experience and knowledge to build a sustainable enterprise. 
Join a community of like-minded entrepreneurs and innovators, supported by people who understand your goals.
Location: All campuses and available to distance students
Meet our graduates
"Juggling an internship, full-time study, part-time work and some extra social media and design work for New World during lockdown has been stressful at times, but I'm forever grateful for all the opportunities I've been provided this year and wouldn't change a thing."
"Massey University provided me with a broad knowledge base from day one, with a holistic approach to Aviation Management. I now have a much greater appreciation for the depth of the industry. My time at Massey was very enjoyable, I met so many open minded students, and engaged with passionate faculty members, but most importantly, I had fun!"

"This degree allowed me to pursue my passions in agriculture and commerce, and also offered the flexibility to include a minor in politics. This allows me to combine knowledge, and see how sectors in society are connected. The thought provoking content is preparing us for a future where the market is ever-changing and every day may be different."

Accreditations and rankings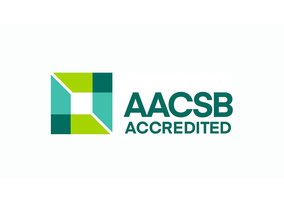 Association to Advance Collegiate Schools of Business (AACSB)
Massey Business School is rated in the top 5% of global business colleges by AACSB International.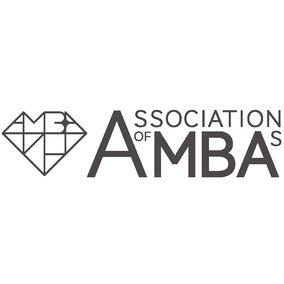 Association of MBAs (AMBA)
Massey's MBA programmes (MBA and EMBA) are accredited by the Association of MBAs
Get an information guide
Download our guides to find out more about studying business at Massey.
Our strategy
Download our strategy document to find out more about our moemoeā (vision), ta pae tawhiti (mission) and ngā uara (values).