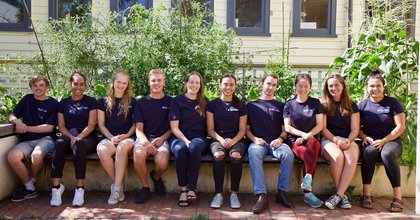 Scholars@Massey is a community of undergraduate and postgraduate scholars for peer networking, learning and support.
This programme is unique to Aotearoa New Zealand. It is funded by the Massey University Foundation and provides opportunities for Massey University students who have been awarded scholarships.
Email scholars@massey.ac.nz to ask about the programme.
Learning and development opportunities
The Scholars@Massey community aims to help you maximise your potential through personal development, including:
peer coaching and advice on academic goal setting and challenges faced by high achieving students.
holistic learning opportunities, including understanding your health and well-being, workshops on topics like Brain Savvy Stress Management, Defeating Self-Sabotage and Study Tips & Tricks.
week-long activities and events on important topics like leadership, publishing and career development.
teaching you how highly accomplished students make decisions about the future, draft essays, create CVs and prepare for interviews.
encouraging the personal qualities, experiences and skills relevant to your ongoing success.
Support for future scholarships, grants and awards
This programme helps you plan for success in future scholarships, grants and awards through:
information and advice on the process of applying for national and international scholarships, awards and grants.
constructive feedback on scholar applications, essays, and proposals, and interview preparation support.
scholarship information sessions for high value, prestigious scholarships, grants and awards, including application support for eligible students.
Peer scholars
Peer scholars are the undergraduate and postgraduate student leaders of Scholars@Massey. They support the scholar community as mentors, lead activities and events, and facilitate support for ongoing scholar development.
In addition to a Massey University Foundation Peer Scholar Award, peer scholars receive opportunities for learning and development about leadership, mentoring and their strengths. They are selected each academic year through a competitive scholarship application process.