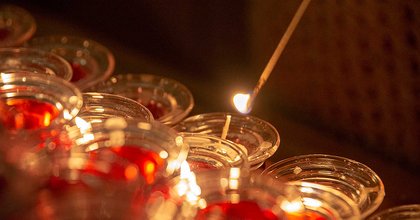 Taking care of yourself in a holistic way can help you get the most out of your university life and study.  Spiritual wellbeing includes the values and beliefs that determine the way you live, the search for meaning and purpose in life, the capacity to have faith, and to understand the links between people and the environment. 
Chaplains are here to support you through your time at Massey.  They have an understanding of life as physical, emotional, intellectual and spiritual. They can provide a listening ear, help you to make sense of life, and guide and advise. 
Faith communities
A range of student faith groups are available on each campus. These are run through student association cultural clubs, and include groups such as Chinese Christian, Muslim societies and prayer spaces, Catholic, Pasifika, and Tertiary Students Christian Fellowship.
Find faith groups in the cultural section of your student association
Discover more in the Wellbeing section of your student intranet MyHub (requires login)
Chaplaincy service – Minita whakapono
You can find opportunities for learning, dialogue and celebration through Massey's Chaplaincy Service, as well as links to faith communities. Massey's chaplains are available to all students and staff to help you:
Connect – Being away from home and studying can sometimes be a challenge. Campus chaplains are here to connect with you and help you connect with others.
Reflect – Student life gets busy with deadlines, exams and projects. Sometimes it's really good to be able to take time out and take life in.
Support – Sometimes stuff happens that you may not have bargained for. The campus chaplains are here for you.
Campus chaplains are trained in pastoral care and affiliated with the Aotearoa New Zealand Tertiary Chaplaincy Association. Many are volunteers who willingly give their time to support you.
Chaplains are also an important role in the life of the university, leading services, karakia, opening of buildings, blessing of important spaces, funerals, memorials and religious festivals. They tend to pop up at the most significant moments.
Come and visit us. You can get a cuppa, read, study, chill out or chat. Whenever the door is open, you are welcome to drop in, or make an appointment to talk to us.
Check out what's happening on your campus through the spiritual wellbeing facebook groups below.
Chaplaincy service on Auckland campus
Discover social events, worship services, language classes and more.
Location: Massey Business School building, level 1
Email: chaplain.auckland@massey.ac.nz
Phone: +64 9 213 6449
Instagram: @lui_thedog
Facebook: Spiritual Wellbeing Auckland
Chaplaincy service on Manawatū campus
Regular events are held at Te Waiora, including our famous pancake night on Wednesdays.
Location: The Centre – Te Waiora
Email: chaplain.manawatu@massey.ac.nz
Phone: +64 6 951 7730
Facebook: Spiritual Wellbeing Manawatu
Chaplaincy service on Wellington campus
Find us at Wellbeing Space (next to the Pyramid) on Wednesdays. Free breakfast and Chapel at noon.
Location: Student Services Trust building, block 9, level 2 (above Tussock)
Email: chaplain.wellington@massey.ac.nz
Phone: +64 4 979 3375
Facebook: Spiritual Wellbeing Wellington
Instagram: masseychaplaincywellington
Taha wairua
Taking a holistic approach to life helps you along your study journey. A Māori view of wellness is portrayed in the Te Whare Tapa Whā model, developed by Massey researcher Professor Sir Mason Durie. It has four dimensions:
taha wairua (spiritual health)
taha hinengaro (mental health)
taha tinana (physical health)
taha whānau (family health).
Different parts of a wharenui (meeting house) represent each dimension. Taha wairua (spiritual health) is represented in this model as the gateway, recognising that the spiritual essence of a person is their life force.
Taha wairua provides a sense of meaning and purpose, as well as a sense of connectedness to self, whānau, community, nature and the significant or sacred. Our chaplains can explore this holistic approach further with you and support you while you are studying at Massey.

The students association gives you a helping hand and ensure your voice is heard.