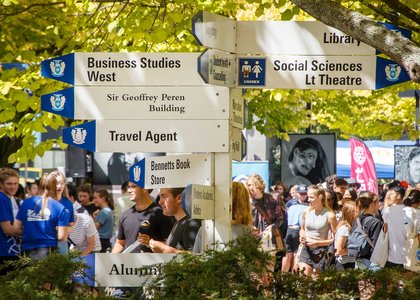 While we hope you never need to complain about your experience with us, if you do we want that process to be straightforward and transparent.
Here is some guidance to support you and help you understand the different types of complaints, and the different processes used, depending on what you would like to achieve by raising your concerns.
Types of complaint
There are three main sorts of complaints:
Academic
A complaint about your academic experience or an academic outcome. Examples may include significant delay in returning assignments, feeling that work has been unfairly marked, or the material provided is inadequate.
Behaviour
A complaint about the behaviour of either a staff member or a student. Examples may include inappropriate comments, sexist behaviour, rudeness or bullying, comments about your appearance, race, religion, background or beliefs.
We follow student disciplinary regulations when a formal complaint is made about the behaviour of a student.
Service
A complaint about the service that you have received from us. Examples may include the enrolment process, student fees or facilities.
Resolving your concern
We have three processes that you can use to tell us about your concerns or experience, and gain support.
Disclosure
We encourage you to chat to our friendly staff and share information with them. Making a disclosure to a staff member gives you the opportunity to share your thoughts, how you are feeling, and be provided with support by our pastoral care teams.
As part of disclosing your experience you will be provided with information about other options, such as a formal complaint. You may then decide that you are not ready to make a complaint – the decision will always rest with the person making the disclosure.
Informal
Sometimes the best way to resolve an issue is with a process that is informal but involves both parties discussing the concerns and working together to create a positive solution.
Your class representative can work on your behalf to advocate for a positive change in your courses, and they are also able to raise issues anonymously. You can find your class rep on your class stream site.
Formal
Formal complaints will result in a formal, documented investigation and outcome. You would not remain anonymous. The people or service you are complaining about will be advised that a complaint has been made against them, and what your complaint is about.
A range of people can support you through this process including your student association advocacy co-ordinator.
Examples of the sorts of issues we can investigate include awarding of marks or grades that have not been fairly gained by students, failing to follow policy or regulations, harmful behaviours.
How to make a complaint
If you would like help to navigate the process of making a complaint, fill out this confidential complaint process advice form to guide you.
More detailed information is available in the related links and documents below.