Where you can study
Auckland campus
International students
International students are not New Zealand citizens or residents.
Open to international students on campus in New Zealand
Specialise in Physiology for your Bachelor of Science at Massey
Ever wondered how your diet influences the skeleton, or how the stomach and intestines process food, or even how climate change impacts the survival ability of penguins? Your teachers are at the forefront of research like this. They'll use it in their teaching, so what you learn is relevant and engaging.
Physiology explains how cells, tissues and organs work together to maintain normal body function. It is the basis of modern medicine, connecting science and health, so we can recognise and understand problems, helping us develop new treatments for disease.
You will gain a broad understanding of the functions and integration of the major organ systems of the body, progressing to more in-depth insights as your study progresses.
Follow your interests
You can choose from a wide variety of courses to complement your physiology study at Massey. That could include anything from agribusiness, psychology or human nutrition to environmental science, zoology or sport and exercise.
Topics you'll learn about include:
adaptive human physiology
animal welfare science
cell physiology
environmental physiology
metabolic physiology
human lifecycle physiology
physiological control systems
physiological strategies for survival
physiology of mammalian organ systems
Transferable skills
You'll also learn skills that will be useful, no matter what field you end up working in, like critical thinking, planning, analysis and communication skills.
A Bachelor of Science in Physiology is a good fit if you:
like biology and chemistry
are curious about how the body works
want to work in human or animal health sciences.
Planning information
If you study full-time, in your first year, you'll take eight 15-credit courses, making a total of 120 credits.
If you wish to study over two semesters, you should aim for 60 credits per semester. You may be able to take some courses at summer school. Make sure you include courses that are prerequisites for the next level of courses you wish to study.
The first year structure is designed to provide you with a broad knowledge and skill set which will equip you to go on to more advanced courses in the second and third years.
You must pass at least 90 credits from the BSc Schedule A, including any compulsory courses, in your first 120 credits of study towards the Bachelor of Science.
Physiology has similar first year core courses to several other majors available in the Bachelor of Science, allowing students to change their major before their second year. Changing your major may incur an increase in completion time.
Suggested structure
100-level courses
Take these in any order:
Take these in the order shown:
Plus choose one 100 level elective course. This can be from a subject area other than Science.
200-level courses in the major
300-level courses in the major
Minors
Completing a minor is optional. Minors increase the breadth of your degree. They give you extra knowledge, attributes and capabilities.
A minor must be in a different subject from your major.
A Bachelor of Science (Physiology) with a minor
You may choose a minor from any University undergraduate degree that has recognised minors. If the minor is from another undergraduate degree, the regulations of that programme will apply.
Some BSc minors that are particularly compatible with physiology include those shown below. Timetabling will prioritise these combinations to minimise clashes.
Exercise and Sport (Courses: 234121)
Human Nutrition (Auckland only) (include 214131 in your first year)
Molecular Cell Biology
Psychology (Course: 175102)
A Physiology minor (for students who are studying a different degree)
If you are not studying a Bachelor of Science (Physiology) and wish to complete a Physiology minor see the BSc regulations for the requirements of this minor.  
Official regulations
To understand what you need to study and must complete to graduate read the official rules and regulations for this qualification.
You should read these together with all other relevant Statutes and Regulations of the University including the General Regulations for Undergraduate Degrees, Undergraduate Diplomas, Undergraduate Certificates, Graduate Diplomas and Graduate Certificates.
Returning students
If you started the BSc programme before 2020 you may be completing the programme under the previous regulations, which are listed in Schedule C in the Regulations for this programme.
In some cases the programme or specialisation you enrolled in may no longer be taking new enrolments, so may not appear on these web pages. To find information on the regulations for these programmes go to the Massey University Calendar.
Please contact us through the Get advice button on this page if you have any questions.
Courses you can enrol in
Course planning key
Prerequisites

Courses that need to be completed before moving onto a course at the next level. For example, a lot of 200-level courses have 100-level prerequisite courses.

Corequisites

Courses that must be completed at the same time as another course are known as corequisite courses.

Restrictions

Some courses are restricted against each other because their content is similar. This means you can only choose one of the offered courses to study and credit to your qualification.
200-level courses
Compulsory courses
Choose 45 credits from
Course code:

122202

The Dynamic Cell

credits

15

Energy metabolism in higher eukaryotes from the perspective of life on earth and the necessary adaptation of living organisms from an anaerobic to aerobic environment. Carbohydrate, lipid and nitrogen metabolism in the context of health and disease. Integration and regulation of carbohydrate, lipid and amino acid metabolism. A lecture and problem-based tutorial course complemented by a hands-on project-based laboratory course.

View full course details
Course code:

194241

Physiological Control Systems

credits

15

The principles of control systems involving nerves and hormones are examined. Control at the cellular, tissue, organ system and whole-body levels is explained with reference to the basis of cell excitability, basic functions of the nervous system, muscle contraction, actions of hormones, the immune system and the renal system.

View full course details
Course code:

194242

Physiology of Mammalian Organ Systems

credits

15

An examination of the roles of organ systems in maintaining life and health in mammals, including humans, with emphasis on the alignment between structure and function. Topics include the functions of the heart and blood vessels, breathing, reproduction, and the digestive system.

View full course details
Compulsory course selection
Choose 15 credits from
Course code:

194243

Physiological Strategies for Survival

credits

15

Survival of individual animals, and species of animals, depends on effective physiological mechanisms that allow animals to live in different environments and to respond to changes in their environment, whether benign or extreme. These mechanisms are examined in relation to environmental factors that may include photoperiod, temperature, altitude, and latitude, and in relation to life in the air and underwater.

View full course details
Course code:

214201

Human Bioscience: Impaired Body Function

credits

15

An examination of the aetiology of disease and alteration of health status and the relevant scientific clinical tests, including the role of micro-organisms in disease processes.

View full course details
300-level courses
Compulsory courses
Choose 30 credits from
Course code:

194342

Cell Physiology

credits

15

An examination of the physiology of selected organ systems at the cellular and molecular level, with emphasis on the physiological processes involved in differentiation, development and disease. Contemporary cell physiology laboratory techniques will be used with the aim of preparing students for research in physiology labs.

View full course details
Course code:

194346

Metabolic Physiology

credits

15

An examination of how the body attempts to maintain adequate nutrient and metabolic substrate levels in response to fluctuating energy demands in health and disease. Topics covered will include fluid and electrolyte balance, blood flow through vital tissues, signalling within the gut, nutrient absorption and utilisation and reflexes regulating metabolic activities

View full course details
Compulsory course selection
Entry requirements
Admission to Massey
All students must meet university entrance requirements to be admitted to the University.
Specific requirements
There are no specific entry requirements for this programme, outside of university admission regulations. However there is some expected background knowledge.
Expected high school preparation
Knowledge gained in the following NCEA subjects (or the equivalent in Cambridge International Examinations, International Baccalaureate, or similar) will give you the expected background knowledge to take this major.
At least 14 credits in NCEA Level 3 Biology
At least 14 credits in NCEA Level 3 Chemistry
English language requirements
To study this programme you must meet Massey University's English language standards.
English language skills
If you need help with your English language skills before you start university, see our English for Academic Purposes (EAP) courses.
Can't meet the entry requirements?
If you need to do a course before you start your programme, there may be options for you in Summer School.
Fees and scholarships
Fees, student loans and free fees scheme
Your tuition fees may be different depending on the courses you choose. Your exact fees will show once you have chosen your courses.
There will also be some compulsory non-tuition fees and for some courses, there may also be charges for things such as study resources, software, trips and contact workshops.
Already know which courses you're going to choose?
You can view fees for the courses that make up your qualification on the course details pages.
Student loans (StudyLink) and Fees Free scheme
You may be eligible for a student loan to help towards paying your fees.
The New Zealand Government offers fees-free tertiary study for eligible domestic students. Find out more about the scheme and your eligibility on the Fees Free website. To use the site's eligibility checking tool, you will need your National Student Number.
Current and returning Massey students can find their National Student Number in the student portal.
Careers and job opportunities
Physiology is key if you want to work in human or animal health sciences.
Wide variety of options
Can you picture yourself conducting vital research in universities, Crown Research Institutes or pharmaceutical or biotech companies? If you really want to go far, you could even be a research physiologist in outer space, discovering how the body adapts to zero gravity.
What about working in one of the world's growth industries - healthcare? You can specialise in nutrition, toxicology, pharmacy, radiography, physiotherapy, nursing, or public and environmental health. How about teaching in schools or hospitals? Or you may fancy a career in the medical, veterinary or food industries, a job in medical writing, or in the active world of sport science, exercise and recreation.
Earn more
A 2017 Ministry of Education publication, The post-study earnings and destinations of young domestic graduates showed that those who complete a qualification in a science, agriculture, technology, computer science, engineering or mathematics field of study have high relative earnings after they complete their study compared to the national median. Earnings can be substantially more than other graduates.
International students
New Zealand is a great place to study. Massey University's reputation is supported by our international rankings, accreditations and associations. We are rated five star plus by the QS World University Rankings.
Massey University has small class sizes, and our lecturers and staff are friendly and approachable.
As an international student, there are entry requirements that will apply to you. We recommend that you apply at least three months before your anticipated start date so your application can be processed in time. There are additional steps you will need to take. These include obtaining a visa and travel bookings if your study is to be in New Zealand.
What our students say
"My studies have taught me that you don't need to be a veterinarian to help animals; Physiology is a broad degree with many possible routes which all have a focus on improving the health of humans and animals."

Accreditations and rankings
QS Ranking - Biological Sciences
Massey University is ranked by QS (Quacquarelli Symonds) as one of the top 450 universities in the world for biological sciences.
Useful planning information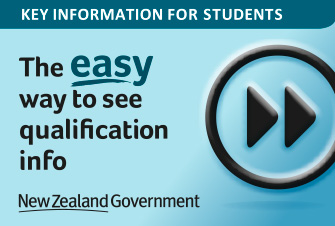 Key information for students
Compare qualifications and academic information across different New Zealand institutions. Learn more on careers.govt.nz